Visiting Machu Picchu? This Is Why You Should Make a Stop in Lima, Peru
If you're planning a trip to see Machu Picchu, then it's my duty, as a Peruvian, to suggest you make a stop in Lima, Peru, for a few days. I might be a little biased, but no one has ever said I was wrong after I swore up and down that a trip to the capital of Peru was the way to go and basically forced them to book a stay there. In fact, I can say that everyone I've persuaded has come back to me with a happy belly full of countless pisco sours (our national drink) and trays of fresh ceviche.
But even if food is not your main draw, there's so much to do and see in Lima — and the experience won't compare to your visit to the famous Inca structure in Cuzco. The city that over eight million Peruvians call home truly has it all: beaches, historic sites (we're talking pre-Inca stuff here, people!), cool bars, and two out of the top three restaurants in Latin America. You're feeling it? Then scroll ahead for everything you must see, do, and eat. What to See
Plaza Mayor: The narrow streets of downtown Lima, part of UNESCO's World Heritage List, are filled with government buildings with most of them surrounding the main plaza, including the Palacio de Gobierno, Municipalidad de Lima, Cathedral, and even the headquarters of one of the oldest political magazines in Peru.
Iglesia y Convento de Santo Domingo: This 16th-century church, built on land directly granted by Spanish conquistador Francisco Pizarro to Dominican friar Vicente de Valverde, holds the remains for three Peruvian saints: Santa Rosa de Lima, San Martín de Porres, and San Juan Macías.
Basílica y Convento de San Francisco de Lima: Going down below this church built in 1774 takes you into the largest catacombs and crypts in the city, which have stood through hundreds of years of powerful earthquakes.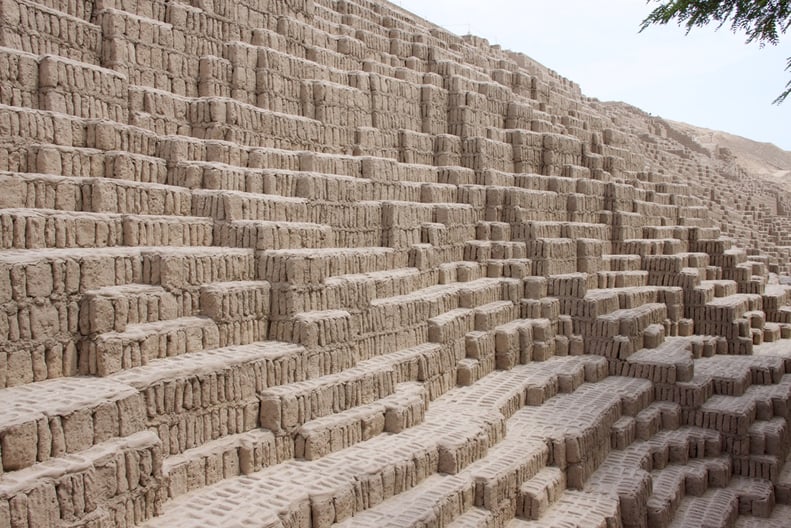 Huaca Pucllana: In the middle of one of Lima's business areas, you'll find a pre-Incan temple made of an adobe and clay between 200 AD and 700 AD. Guided tours will teach you more about the cultures that preceded the Incans. Bonus: the restaurant at the Huaca is one of the best in the city, offering dinner views of the lit-up structure.
Museo Larco: Inside a mansion in Pueblo Libre, you'll find one of the largest collection of huacos, pre-Incan and Incan ceramics, including a room full of erotic depictions. The Larco Museum is one of the only ones that lets you into their storage room so you can see what's not on display.
Museo de la Nación: Though this museum has seen better days, the key exhibit here is Yuyanapaq. Created by the Truth and Reconciliation Committee in the early 2000s, it displays photos, videos, and audio recounting terrorism in Peru during the 1980s and 1990s. Miraflores: The area around Larcomar, one of Lima's most popular shopping centers set on a cliff by the water, offers great views of the city's beaches, also known as Costa Verde for the greenery that grows right next to the sandy and rocky shores.
Parque de la Reserva: Don't miss out on posing by the interactive fountains in this park. On weekend nights, you're sure to find lots of locals enjoying walks in the area.
El Puente de los Suspiros: The city's most famous bridge, located in the artsy neighborhood of Barranco, dates back to 1876. Legend has it holding your breath while crossing it will grant you a wish. Next to it, you'll find a statue of Chabuca Granda, whose song named after the bridge you'll probably hear in the area more than once.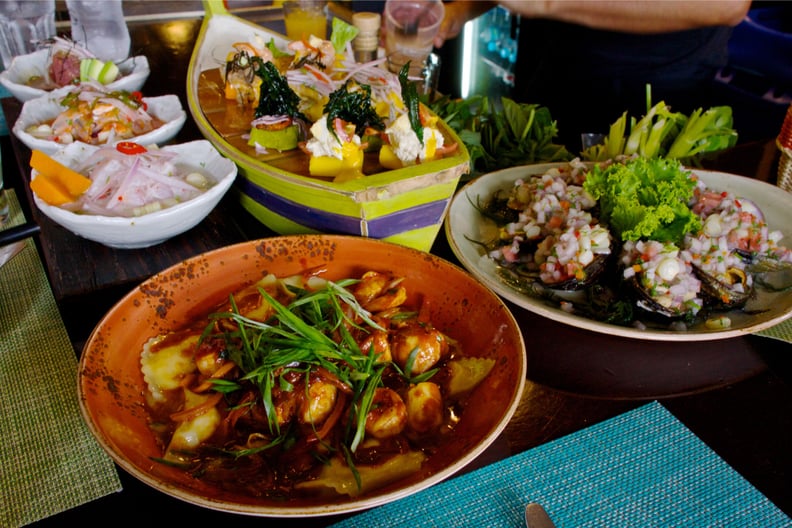 Where to Eat
Central: At the best restaurant in Latin America, chef Virgílio Martínez serves a tasting menu featuring some of Peru's best: warm ceviches, langoustines, suckling pig, and lots of quinoa.
Astrid y Gastón: This restaurant is an institution, as is its founder and original chef, Gastón Acurio — Peruvians love him so much, he often gets asked to run for president. It ranks number three in Latin America thanks to its creative take on Lima cuisine, featuring vegetable foams, guinea pig, potatoes galore, and spicy sauces made with rocoto.
La Mar: If you're looking to stuff yourself with fish — that's sort of Lima's thing — try this Miraflores outpost of Gastón's international chain. You'll find ceviches and tiraditos, causas (yellow potato cakes filled with tuna or crab), and mussels in every shape and form.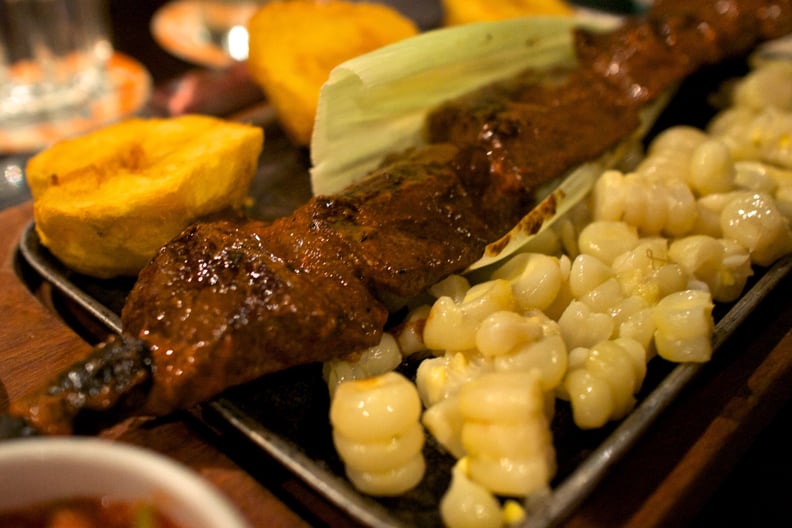 Panchita: For the adventorous set, there's traditional Peruvian food, including anticuchos — that's cow's heart in a stick seen above. Though most Peruvians eat the skewers, followed by a dessert called picarones, from street carts, Gastón once again comes to the rescue by offering that and much more at this restaurant.
La Lucha: Peruvians take sanguches (that's not a mispelling) pretty seriously! With options like chicharrón with fried sweet potatoes and butifarra (a version of ham) with salsa criolla (red onions and tomatoes), you might want to eat a sanguche a day.
Sarcletti: You can't leave Peru without trying lúcuma ice cream. Sure, you can find store-bought versions, but nothing beats the real thing made with fruit at this ice-cream spot that's packed during lonche (tea) time. Where to Party
Ayahúasca Bar: It's not what you think — it's just the name. This bar features themed rooms through an old colonial Barranco house and lots of pisco-based drinks.
Gótica: Inside of shopping mall Larcomar, you'll find a popular club with pumping music, balconies overlooking the ocean, and lots of people.
Cala: You'll find limeños sipping chilcanos (pisco, ginger ale, and lime juice) at this place on the sandy beaches of Barranco until the early morning hours.