We all know that every Latinx celebration [1] is all about the food, right? It's what brings us together, unites us, and helps us bond with our families and friends. Even Semana Santa [2] inevitably ends up being incredibly food-centered, especially for those of us who've given up certain treats for Lent or have been abstaining from eating meat. Finally breaking that fast feels so good! Semana Santa, or what some refer to as the Holy Week, runs from Palm Sunday through Holy Saturday each year, but we can include Easter [3] as well since that is when everything culminates and we typically enjoy a wonderful feast together.
Here, we share some of the traditional Semana Santa and Easter foods [4] that are eaten in Spanish-speaking countries throughout Latin America and the Caribbean. These Semana Santa dishes aren't only incredibly delicious, but they are a part of many of our cultural traditions and help remind us of our roots and the many wonderful memories we share with our families that were made around the dining room table. From savory fish stews to tasty sweetbreads, click through to learn more about some of the traditional Semana Santa foods enjoyed in Spanish-speaking countries like Puerto Rico, the Dominican Republic, and Colombia. Maybe you can even find a recipe and impress your own abuela with your cooking skills this Semana Santa!
Bacalao a la Vizcaina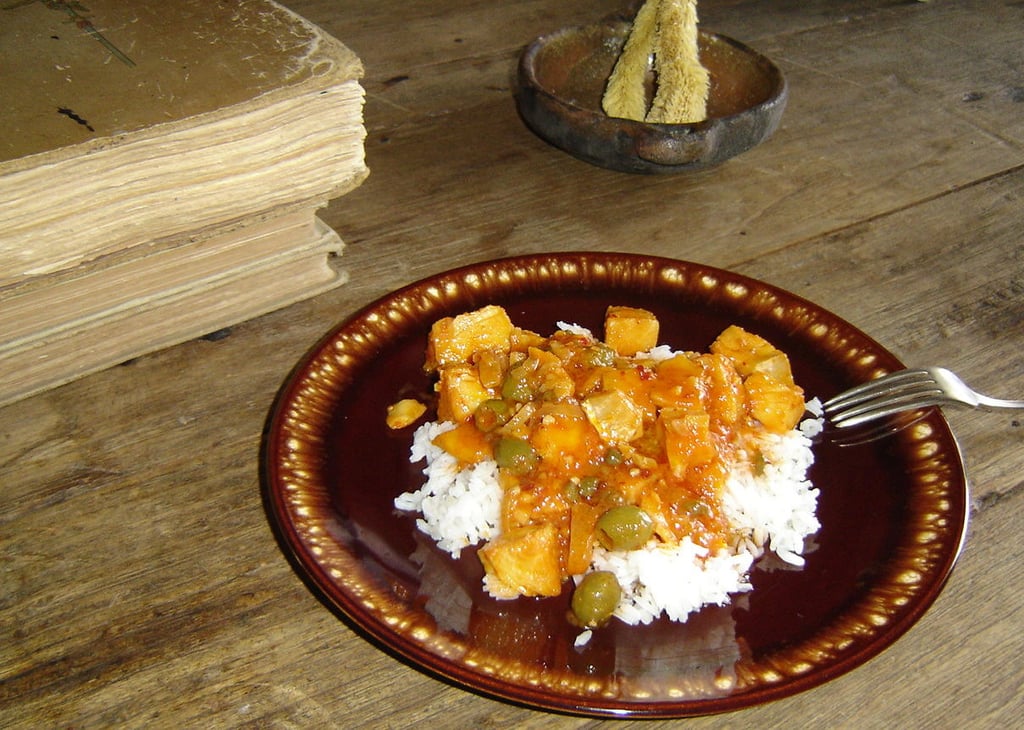 In Puerto Rico, it's quite common to eschew heavy meat dishes on Easter. Instead many of us enjoy a dish called bacalao a la vizcaina, a tomato-based codfish stew that is flavored with pimento-stuffed green olives, onions, and garlic. Arroz con habichuelas and mofongo are also traditionally served during Easter festivities.
Flan de Coco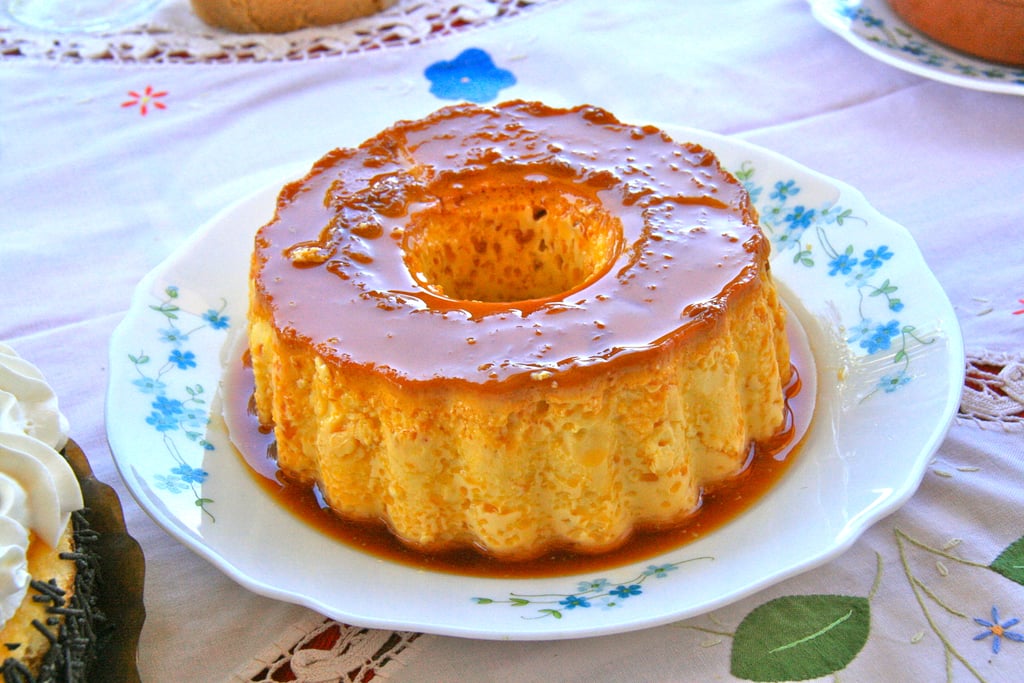 Coconut flan [5] is a beloved dessert in Puerto Rico that is often served during Semana Santa and Easter in particular. Like regular flan, it's an egg-based custard, but coconut milk or coconut cream is used instead of evaporated milk.
Sopa de Capirotadas A typical meal eaten on Good Friday in Honduras is Sopa de Capirotadas, a very simple, savory soup broth that is served with tasty dumplings made from cornmeal and cheese. It's a soup that is eaten almost exclusively during Semana Santa.
Rosquillas en Miel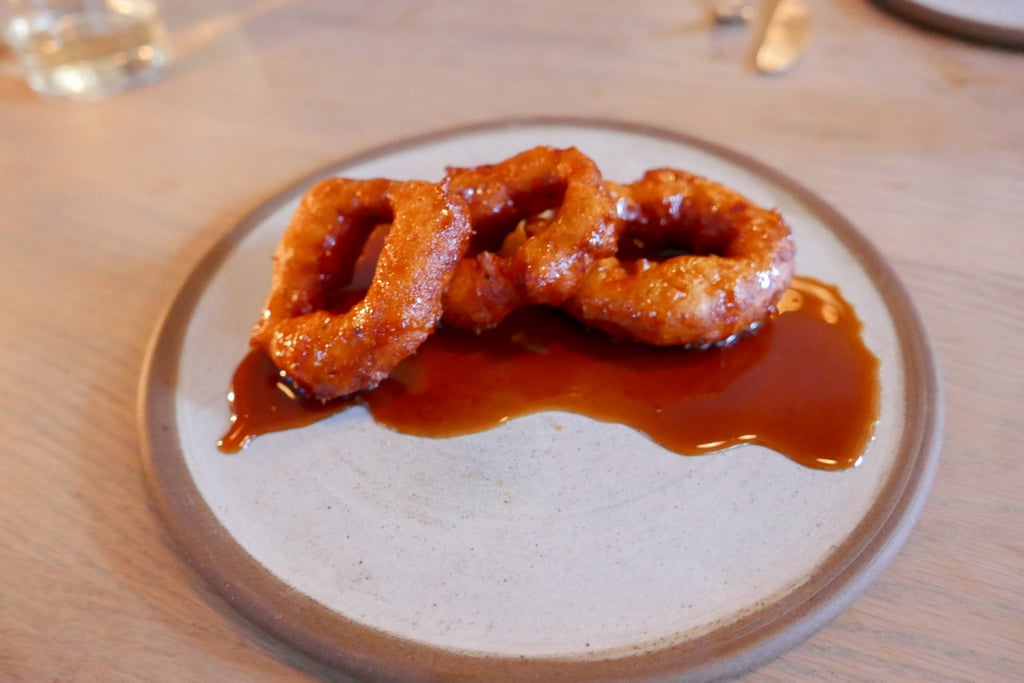 Another traditional Semana Santa dish in Honduras is rosquillas en miel. These honey-glazed donuts and other treats featuring honey are usually eaten on Good Friday, prior to a religious procession representing the crucifixion.
Tortitas de Coliflor Being that many Mexicans are of the Catholic faith, the vegetarian dish, tortitas de coliflor, is commonly enjoyed during Semana Santa in Mexico. They are yummy, crispy cauliflower croquettes or fritters that are sometimes stuffed with cheese.
Romeritos Romeritos are a type of greens that are native to Mexico and have a flavor similar to spinach. They are often served stewed during Semana Santa. Despite being totally plant-based, it's a rich dish thanks to the inclusion of lots of seasonings like chiles, peanuts, raisins, and even chocolate. Some people also add a small amount of dried shrimp for flavor.
Habichuelas con Dulce
Habichuelas con dulce is a uniquely Dominican dessert that is served year-round but is a must have during the Lenten season and Semana Santa. It's a sweet combination of red beans, sweet potato, spices, and a few different kinds of milk, including coconut milk.
Ensalada Rusa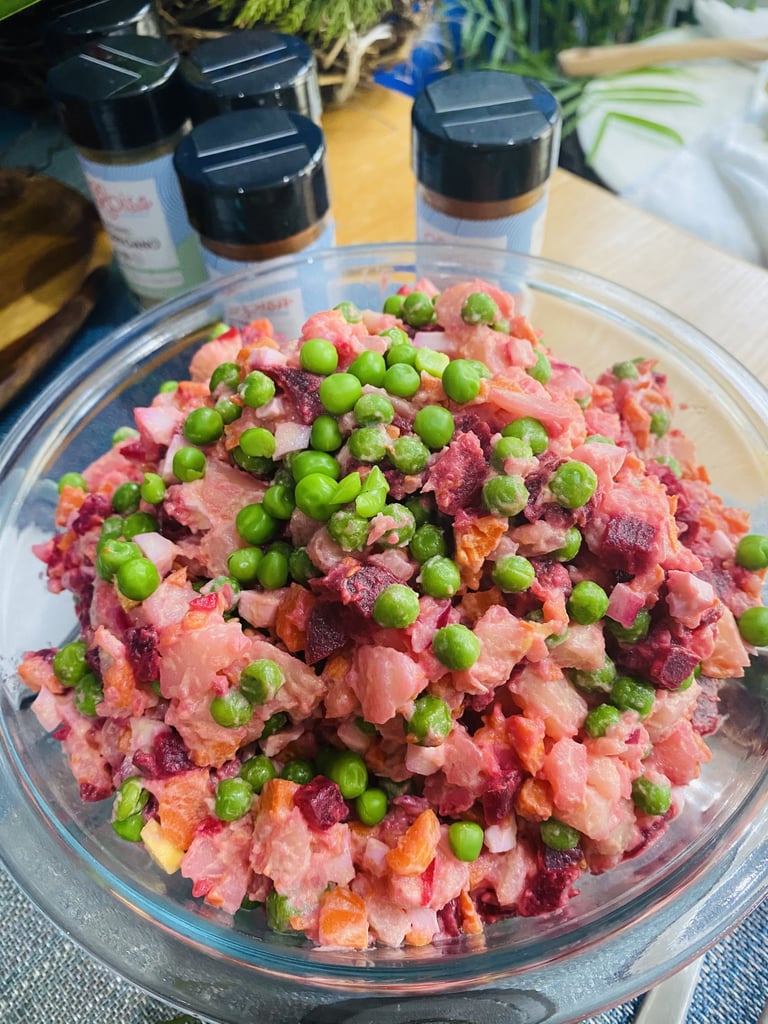 Like in many Latin American countries, fish and seafood are typical main dishes in the Dominican Republic during Semana Santa. They are often served alongside ensalada rusa, which is simply known as Dominican potato salad [6] in the states. The addition of beets and sometimes even apples makes this potato salad distinctive and super-festive looking.
Dobladas Classic comfort foods are the Semana Santa tradition in Guatemala, and more often, you'll find them being served up by street vendors outside of churches. One such dish is dobladas, which are turnovers similar to empanadas — but even crispier. They are filled with things like cabbage and cheese for those abstaining from meat.
Algodones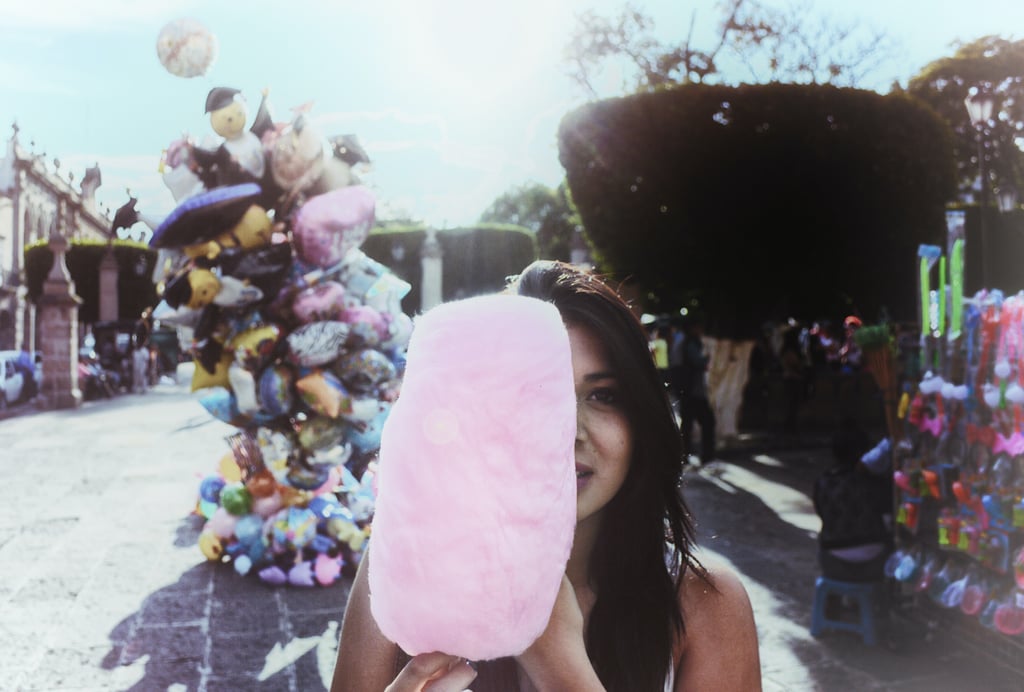 Reflecting the festive nature of Semana Santa throughout Latin America, algodones or cotton candy, is a typical Holy Week treat in Guatemala. As with dobladas, it's most often purchased from street vendors after religious services throughout the week. It's a tradition, along with other festive sweets like chupetes and sweet empanadas.
Potaje de la Vigilia Colombia is another country in which codfish stew is a common Semana Santa and Easter tradition. In Colombia, it's called potaje de la vigilia, and it's made with bacalao, chickpeas, and spinach. It's perfect for Good Friday since it doesn't have any red meat or poultry in it.
Buñuelos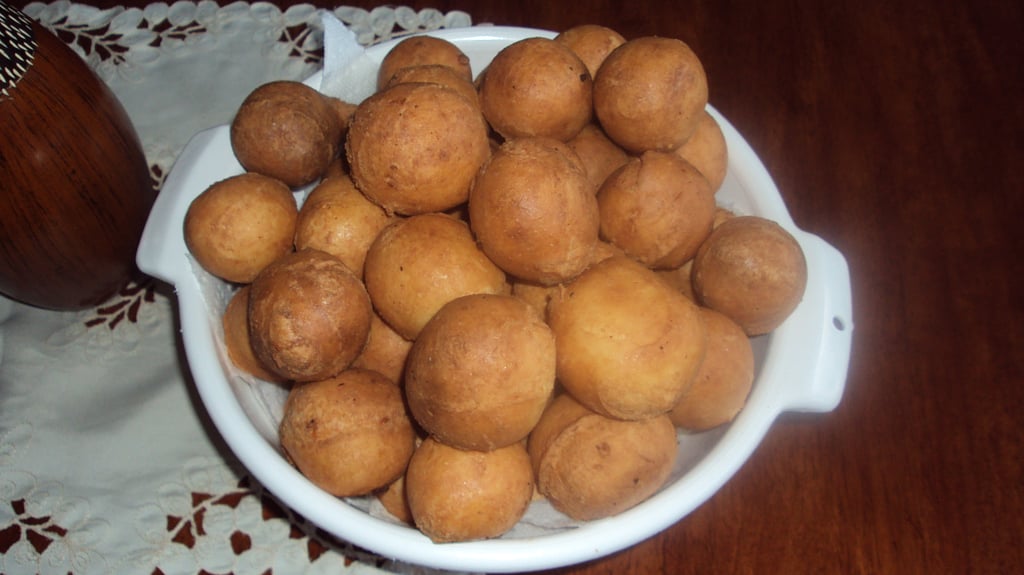 Buñuelos are popular in Colombia any time of year, but during holidays like Easter, is when many families go through the effort of making them at home and from scratch. They are a soft, fluffy fried ball of dough, often spiked with cheese.
Molotes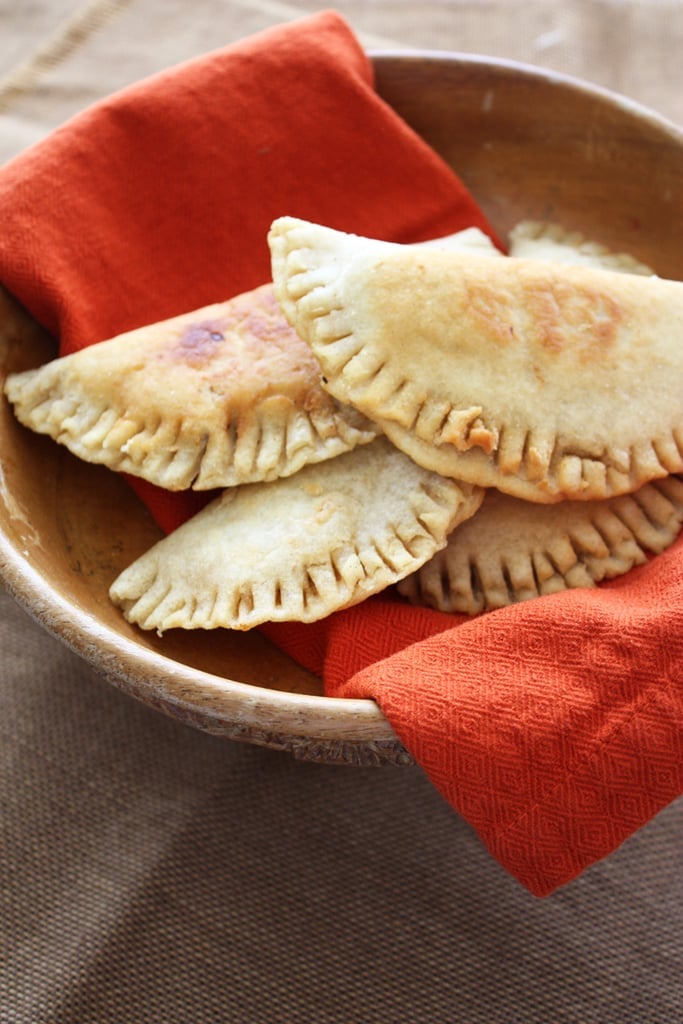 Mexican molotes [7] are an empanada-like pastries from Oaxaca, that are typically served both during the winter holidays and around Easter. The dough is made with masa harina and they are usually filled with chorizo and potato. Molotes are also street food and are enjoyed with tons of toppings including queso fresco and radishes.
Arroz con Leche Red meat and pork are not usually consumed during Semana Santa in Costa Rica, so as in many other places, seafood is typical. But arroz con leche [8] is actually another dish that is commonly eaten during Holy Week in Costa Rica. It's a sweet and satisfying option for people who don't like seafood or are allergic to it.
Rosca de Pascua As is common in many countries, Argentina has its own Easter bread called Rosca de Pascua. It's a ring-shaped bread that's fortified with egg for a rich taste and fluffy texture. It's then topped with pastry cream, candied cherries, and sometimes, chocolate Easter eggs. Rosca de Pascua is ubiquitous throughout bakeries and shops in Argentina during Semana Santa.