30 Rock "Mrs. Donaghy" Episode
5 Don'ts From 30 Rock's Destination Wedding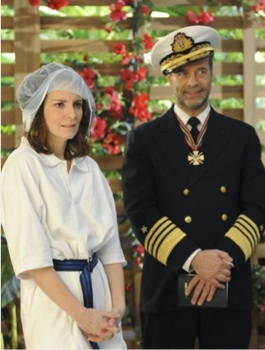 Last night 30 Rock returned with a freshly married Jack Donaghy. For his second wedding, he wanted a "five-minute ceremony surrounded by a giant party" on the fictional French island St. Esclavage. But not even Jack could make this wedding go off without a hitch, so here are five definite don'ts (and spoilers!).
Don't use an uncoordinated flower girl. Nobody wants to see a 4-year-old who can't evenly distribute petals.
Don't let an exiled French admiral and defrocked minister who can't speak a word of English perform the ceremony. Oui?
Don't use a woman, particularly Liz Lemon, if you must make a last-minute best man switch.
If you must switch the best man for an OK-ish woman, ensure she is not wearing a white mosquito veil while the bride wears a black cocktail dress and no veil.
Don't ever sign papers you don't understand.
Follow these five steps, and with any luck, you'll marry the right person. But for now, congratulations Mrs. Elizabeth Lemon Donaghy!