3D Porn and First Sex Robot Unveiled in Las Vegas
Sex to the Future: 3D Porn and Robot Sex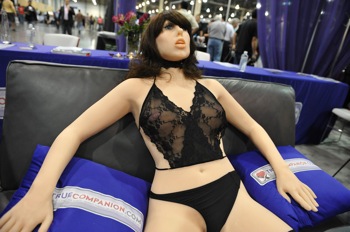 It's 2010, which means it's time we accept our futuristic reality. Soon we won't actually have to have sex with each other. Instead, we can replicate the ancient experience by watching realistic 3D porn or having sex with robots.
After the success of Avatar, I'm not surprised the porn industry has jumped on 3D. Last weekend at the Adult Entertainment Expo in Las Vegas, porn company Bad Girls in 3D unveiled an online library made up of 3D titles exclusively. Time to invest in a good pair of 3D glasses!
For those who want to participate in futuristic sex and not just watch it, the world's first sexbot also made her debut. Along with her fleshlike synthetic skin and lifelike skeleton, Roxxxy can talk about football. The makers also gave her five different personalities, presumably to make her more like a real girlfriend. Roxxxy costs $7,000, and the male version, named Rocky, is coming soon. Excited?