5 Cool Things You Should Know About Batwoman
5 Cool Things You Should Know About Batwoman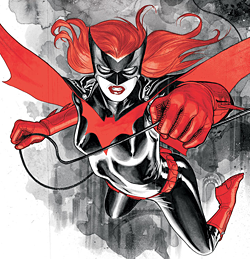 You don't need to be a comic book nerd to think this news is awesome. DC Comics has announced plans to give Batwoman her very own series. Batwoman will be the first lesbian character in a title role of series released by a major comic book publisher. Some other cool facts about the unlikely heroine:


Batwoman was originally created in 1956 and then reintroduced in 2006 as a lesbian.
Batwoman was introduced as Bruce Wayne's love interest with the purpose of proving Batman was not gay for Robin. Look who's gay now!
Her "civilian name" is Kate Kane, which sort of rhymes with Bruce Wayne, and she poses as a socialite when she's not fighting crime.
The character served in the military, but was discharged for being a lesbian.
She's also Jewish.
Would you read more about the adventures of Batwoman?