5 Modern Rules For Wedding Thank-You Notes
Some say thank-you notes are a dying art, but I have to side with Emily Post on this one. Nothing beats a heartfelt and handwritten note to show your gratitude for a gift — especially when it's for your wedding. But that doesn't mean you can't modernize the tradition a tad; here are my five rules for modern thank-yous.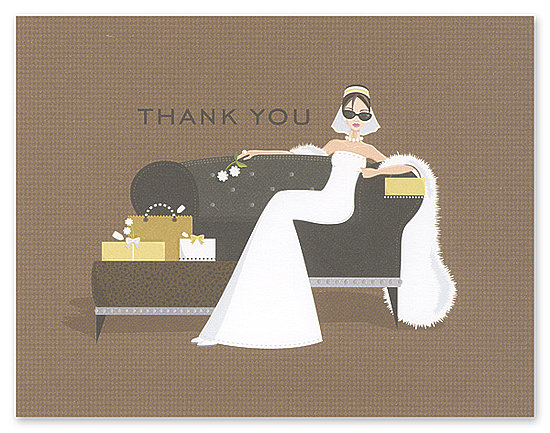 Divide the work. Face it: thank-you notes are an act of etiquette often assigned to women, so don't let the task fall solely to you. Split up the list between you and your groom. Better yet, make it fun: bang them out over breakfast at your favorite cafe or while watching your shared guilty pleasure TV shows.
Say something specific. Describe the gift and add a bit of flair, such as "we'll think of you every time we use it" or "we'll be sure to raise a toast to you with the beautiful glasses." If it's a gift card or money, say what you might spend it on.
But don't lie. Don't say you love the gift if you don't like it. Instead, focus on its unique attributes, the sentiment behind it, or something else entirely . . .
For that something else, and more, read on.
Go beyond the gift. This is your chance to tell the givers how much you appreciate their being a part of your celebration. If it's someone you've known for a long time, don't be afraid to utter other heartfelt sentiments, like "your 40 years of marriage are an inspiration to us."
Send it ASAP. Experts disagree on the amount of time couples have to write thank-you notes, though within three months of getting a gift is a good rule of thumb. I say, do it as soon as possible, at least within a month. Your gracious guests won't be left wondering if the gift arrived OK, and doing the notes in smaller batches will save you some writer's cramp.