5 Photos That Get Responses in Online Dating
Online Dating Horrors: 5 Photos That Actually Get Responses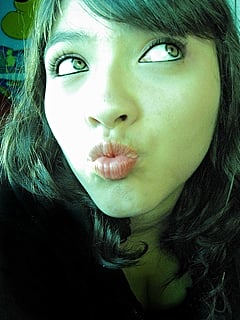 Dating site OkCupid conducted a sizable study to unearth what types of photos garner the most responses. And everything I thought was a turn-off is actually a turn-on, at least if you're measuring turn-ons by quantity of messages and not quality, which the study did.
By looking at profiles for 18-32 year olds with only one photo — and removing the worst- and best-looking people — the study revealed these terrifying truths about what attracts men and women.
Duckfaces: We don't want to encourage this, since we wished duckfaces out with the last decade, but now it's scientifically proven that the duckface works for women. Men? Nope. Look away from the camera. No smiling.
Coy self-portraits: OkCupid calls it the "Myspace photo." You know it. Camera held above the head, and the face looks so thin and so sassy. Believe it or not, these things work. In fact, OkCupid was so shocked by the findings that it removed all photos that revealed cleavage from the equation, but the Myspace photo triumphed.
Shirtless photos for men: Is OkCupid creepin' with guidettes? Guys (caveat: with great bodies) get more responses with shirts off than on. There is one silver six pack: the ab photo's effectiveness decreases with age.
To see the rest,
.
Cleavage shots: The cleavage shot — surprise — works, drawing in 49 percent more responses than other photos. What is news is that it works better for older women. Of course by older, I mean like 30, since the study only looked at 18-32 year olds. OkCupid hypothesizes that the uptick is because women show off their bodies less by their mid-20s, so those who do reap the awards. If an award is the type of guy who'd contact you for showing cleavage.
Show your face . . . or not: It doesn't really matter. OkCupid thought it did, advising users to use pictures that show their faces, but its study found that responses remained the same whether you showed your face or not.
One glimmer of hope is that while posing with your pet or doing something interesting got the fewest responses, they also got the highest quality of responses, which was measured by whether or not a conversation started.
Are you shocked? Disgusted? Never dating again?

Source: Flickr User ● Jabo ®●