5 Reasons to Look Forward to Spring
5 Reasons to Look Forward to Spring and 2 Reasons to Dread It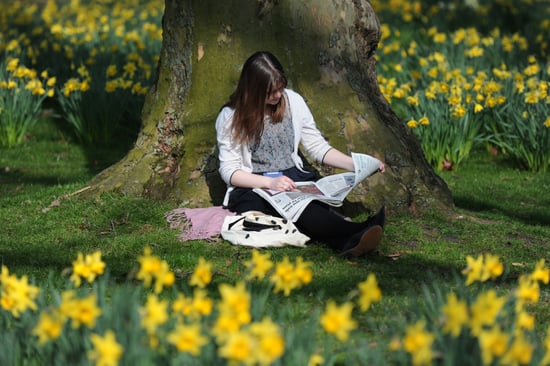 I don't know about you guys, but I am counting down the days until Spring officially arrives. I can't wait to kick off my shoes and enjoy some fresh air and sunshine. Here are a few reasons why Spring rocks and a couple of reminders why we should cherish the few short-days of Winter we have left.
New motivation: I'm impressed if you're still going strong with your New Year's resolutions. But most of us lose steam right about now. The new season puts a little spring in our step, prompting us to de-clutter our homes, hit the gym before bathing suit season arrives, or start saving money for a vacation.
Color: It's back, whether in your wardrobe, a bouquet of fresh flowers, or on your toenails.
Longer days: It brings me so much happiness to leave the office before it's dark, and on the weekends we'll soon have more time to barbecue or eat outside.
New food: Bring on the apricots, asparagus, and artichokes! See ya next Winter apples.
Feeling sexier: While you might miss fashionable boots and coats, nothing's flirtier than a Spring dress.
So what makes me dread saying goodbye to Winter?
No more cozy: It's time to say goodbye to bundling up in a luxuriously comfy scarf before leaving the house, or spending Saturdays watching movies in sweats guilt-free.
Allergies: Warmer weather doesn't come free. For those of us who suffer allergies, we must face watery eyes, sneezing, and an itchy throat. Now is the time to stock up on meds.
What are you looking forward to?