5 Signs Sarah Palin Won't Be President
5 Signs Sarah Palin Has No Intention of Becoming President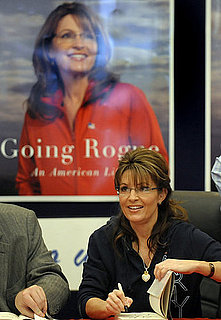 This week Sarah Palin sold the reality show she's been shopping around to Discovery Communications' TLC, which is not to be confused with its other network Discovery Channel. When the deal went public Palin casually dropped TLC from the announcement and chose the "Discovery Network" instead — maybe to distance herself from the inevitable Jon-and-Kate connection?
Variety says Palin's show "will center on interesting characters, traditions, and attractions in the 49th state — with the ex-VP candidate as a guide."
First, this sounds amazing. I will absolutely watch it! Second, how exactly does she plan to be president now? I know this is American and all, but reality-TV star seems as good a place as any to draw the line between those who can be president and those who can't. Her career trajectory since quitting her day job as Alaska's governor seems more in line with her college major, journalism, than politics. So whether it's intentional or not, here are five reasons that show once you go rogue you can't go back.
Reality TV pays better: She's reportedly getting over $1 million per episode.
Hollywood, the temptress: You know what her base doesn't like? Hollywood. Fingers wagged earlier this month when she and her small-ish entourage accepted lavish gifts given away during Oscar mania.
Facebook: Palin has taken to Facebook like a jailbird takes to letter writing. She uses it to express her political views, which everyone knows is social suicide.
Fox News: Typically politicians turn to cable TV hosting to wind their career down not to bolster it. Also, now there's so much evidence. On tape.
Too many haters: From Levi Johnston to her former aids to at least one daughter, Sarah Palin has pissed off one too many people to have it all come back to her. It's one thing to be unpopular but another to be unliked!
And not to mention hypocrisy. She's now a member of the media elite she so scorned!