5 Things Meryl Streep and Tina Fey Have in Common
5 Things Meryl Streep and Tina Fey Have in Common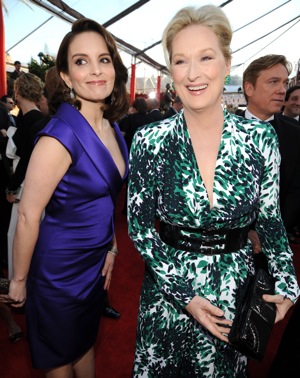 Get excited! Meryl Streep will continue her delightful journey into comedy in a new movie Mommy and Me. The news gets better. Meryl will play Tina Fey's mom. Like any healthy real-life mother-daughter duo, these two actresses each have their own strengths: Tina's a witty writer and improv master, while Meryl is known for dramatic roles and serious acting chops. But they do have more in common than you'd think. Check out five things they share:


Strong marriages: Both Meryl and Tina exceed Hollywood marriage-longevity standards. Meryl's been married to her husband Don since 1978 and Tina married husband Jeff in 2001 after dating for seven years.
BAs in drama: It may be popular for celebrities to enroll in college, but it's not so common to graduate. Tina and Meryl belong to the college graduate club — Tina got a BA in drama from University of Virginia, while Meryl got the same degree from Vassar.
One degree of Lindsay Lohan: Meryl and Tina both worked with Lindsay Lohan while her star was rising. Meryl played Lindsay's mom in 2005's A Prairie Home Companion, while Tina was her high school teacher in Mean Girls.
See the rest after the jump!
They're both moms: In the new movie Meryl will play the mom, but both have experience raising kids. Meryl has four children, while Tina had a baby girl in 2005.
They're award magnets: Both actresses have been nominated for more awards than I can count. Tina has received multiple Emmys, Golden Globes, SAGs, and Writer Guild of America Awards, while Meryl has more Academy Award and Golden Globe nominations than any other actor in the history of the awards, along with many wins.
Are you excited for Mommy and Me?