50 Shades of Grey Fan Trailers
Fulfill Your Fifty Shades Fantasies With Fan-Made Trailers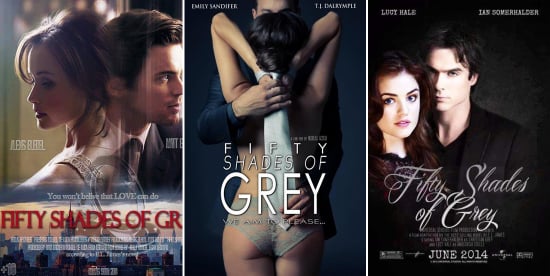 Does Charlie Hunnam not fit your ideal Christian Grey mold? Well, you're in luck because news just broke that he's dropped out of the film. (Maybe that petition to recast the leads, which has 87,000 signatures and counting, actually worked.) While we wait to find out who will replace Hunnam, satisfy your Grey fantasies with a fan-made Fifty Shades of Grey movie trailer that stars actors like fan favorites Alexis Bledel and Matt Bomer, Crazy, Stupid, Love duo Ryan Gosling and Emma Stone, and Vampire Diaries stars Ian Somerhalder and Nina Dobrev.
Trailer Starring Matt Bomer and Alexis Bledel
This hot faux trailer stars White Collar's Bomer as Grey and Gilmore Girls darling Bledel as Anastasia Steele. The mashup is pretty believable, and I have to say, Bomer would make a fine Mr. Grey.
For a good turn-on, no matter what your preference, keep reading.
Short Film Trailer
This is a full-blown reenactment of the book with nonfamous actors in the lead roles. It's pretty entertaining, albeit a bit cheesy.
Starring Ryan Gosling and Emma Stone
This is a darker take on the trailer, mostly starring Gosling, so no complaints. His frequent costar Stone plays Steele, although I can't really see her in the part.
Starring Garrett Hedlund and
Amanda Seyfried
I could actually see Seyfried taking on a daring role like this, considering she's not shy about sex. This trailer even goes so far as to cast all the characters.
Starring Ian Somerhalder and Nina Dobrev
I mean, these smoking vamps would be almost too sizzling for the big screen. It's nice to see the two leads actually interacting in this trailer (instead of just being supercut together), but this is basically a Vampire Diaries mashup.