8 Tips For a No-Frills Wedding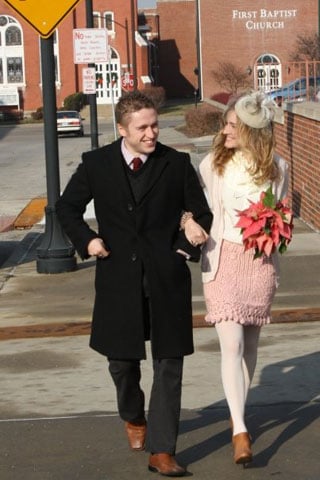 Whether you've decided to get hitched in Vegas, take it down to city hall for a civil ceremony, keep your guest list family-only, elope without anyone knowing, have a last-minute surprise wedding, or renew your vows — you've kicked over-the-top tradition to the curb and you're keeping it simple. But without all the pomp and circumstance, how do you make sure the ceremony is still special?
I've gathered eight tips on putting together a wedding that takes a less-is-more approach, but is still big on the important things that can get shoved aside in the wedding-planning process — like that whole spending the rest of your life with the person you love part.
See them when you
.



Do a destination. With the money you're saving not throwing a big bash, you can spend a little more tying the knot somewhere far from home, maybe a locale that has personal significance? This is especially special if it's just the two of you (e.g. Jim and Pam's Niagara nuptials).
Have a potluck. If you decide to do a small reception after a private ceremony, have the guests bring the grub.
Throw a happy-hour reception. Skip the formal reception altogether and have everyone meet up after at your fave dive bar to celebrate.
Forgo gifts for services. Friends and family are sure to jump at the chance to help out taking photos, doing your makeup, and other wedding duties in lieu of pricey gifts.
Take a chance. Along the same lines as no. 1, without 200+ guests to worry about, you can really make this a special moment for you and your betrothed, so don't be afraid to go out on a limb — or up in a hot air balloon! Grab your close friends and family, and turn it into an adventurous outing.
Skip the ballgown. For less stress, less money, and no fittings, find a creative outfit for the occasion instead of a traditional wedding gown. For her last-minute wedding, I love Corri Sheff's vintagy ensemble (pictured), especially her precious pink knit skirt, which she made herself!
Be courteous. Take a cue from Sacha Baron Cohen and Isla Fisher, who had a tiny, no-fuss wedding in Paris and sent out a sentimental email to absentee family and friends immediately after. I would even take it a step further, and say sending out sweet handwritten notes would keep your loved ones from feeling left out.
Be spontaneous. One of my favorite wedding stories, hands down, is this surprise wedding. The engaged couple decided a week before their engagement party to throw a surprise wedding that night instead. By being willing to change their plans on a whim, they had a memorable, sweet, and all-around awesome day, without the months of planning and stressing.
Have you attended or thrown a low-key wedding? Share your tips and experiences below!
If you are planning a wedding, already happily wed, or still looking for Mr. Right, start sharing your big day with our community. Don't forget to check the wedding content box on your post.
Photo courtesy of The Concrete Catwalk