'90s Trivia
12 Totally Sweet '90s Knowledge Nuggets From New Book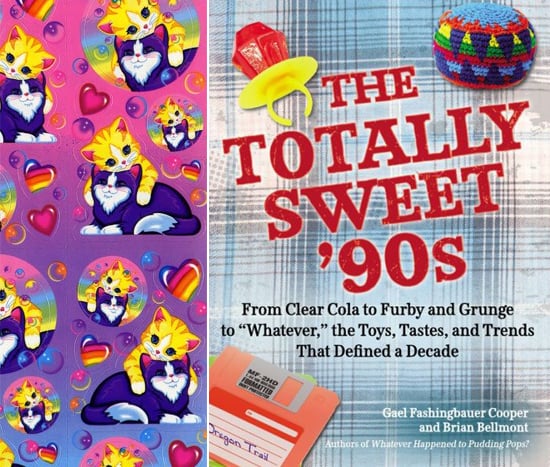 All hail girls of the '90s! There's a new book on the horizon that celebrates the decade of jellies and Tamagotchis: The Totally Sweet '90s by Gael Fashingbauer Cooper and Brian Bellmont (out June 4). The paperback breaks down the hottest trends, toys, video games, songs, and boy bands of the decade with a status update and fun fact on each. Like whatever happened to The Oregon Trail? You'll have to check out the book when it's out for the answer to that one, but I pulled out some of the craziest fun facts on 12 of my faves from the '90s from Lisa Frank to Squeezits. Check 'em out now!
Lisa Frank School Supplies
"Yes, Lisa Frank is a real person, and to no one's surprise, she loves color. Her sons are named Hunter Green and Forrest Green, and she told the Daily in 2012 that 'my house really is purple. And yellow and hot pink and light green and orange.'"
Slap Bracelets
"Slap bracelets were invented by Stuart Anders, a Wisconsin shop teacher who was experimenting with thin bands of metal."
Baby-Sitters Club Books
"In the updated books, mention of a cassette player was changed to 'headphones' and a perm became 'an expensive hairstyle.'"
Caboodles
"The first-ever Caboodle was pink, and was created in 1987. The idea was inspired by a 1986 People magazine photo of Vanna White using a tackle box to store her makeup."
Dream Phone Game
"The game's instructions warn you that the included instrument is 'not a real phone.'"
Scrunchies
"According to the New York Observer, former singer Rommy Revson patented the scrunchie concept as the Scünci in 1986, naming it for her poodle."
Cassette Tapes
"In 2011, the phrase 'cassette tape' was removed from the concise version of the Oxford English Dictionary. One of the words it made room for? 'Sexting.'"
Tamagotchis
"The virtual pet sparked its own psychological term: The Tamagotchi Effect supposedly describes when a human develops an emotional attachment to a machine."
Pogs
"Pog stands for 'passion fruit, orange, guava,' and came from a Hawaiian drink whose bottle caps were reportedly first used to play the game."
The Olsen Twins
"In 2004, the sisters skipped their high school prom so they could host Saturday Night Live."
Oprah's Book Club
"The only real flops among Oprah's choices were her final two. Charles Dickens's Great Expectations and A Tale of Two Cities never moved above number 52 on USA Today's bestseller list. 'Dickens let me down,' Winfrey reportedly said."
Squeezit Drinks
"For a brief time, one Squeezit version came with tablets that you would drop in to change the juice's color."