Abortion Ban in the GOP Platform
What the GOP's Human Life Amendment Could Mean For You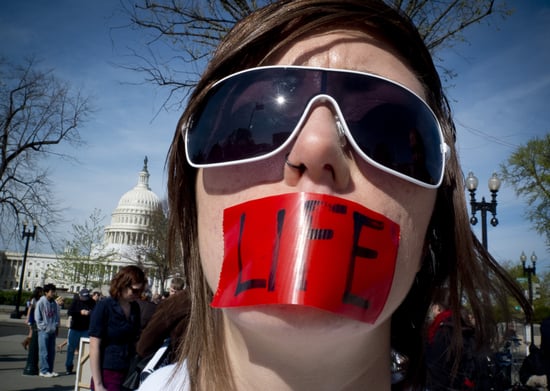 The draft of the official platform of the Republican Party has been leaked, and just like in previous years, it contains the Human Life Amendment, which would ban abortion without exception in the constitution. The amendment is meant to "assert the sanctity of human life and affirm that the unborn child has a fundamental individual right to life which cannot be infringed." This position doesn't differ from that expressed in the GOP platforms of 2000, 2004, and 2008. But this year it could get more attention. Let's look at the highlights (or lowlights).
It opposes federally funded embryonic stem cell research.
It affirms that the government will "not fund or subsidize health care which includes abortion coverage."
It "salutes" states that support informed consent laws, which require "mandatory waiting periods prior to an abortion and health-protective clinic regulation."
Beyond limiting a woman's right to choose, this amendment could have a wider impact. It would also effectively criminalize some forms of birth control, IVF, and perhaps even miscarriages.
This news comes just days after Rep. Todd Akin said victims of "legitimate rape" don't get pregnant in his argument against abortion in cases of rape. In response to Akin's inflammatory statements, a spokesperson for the Mitt Romney campaign said that Romney and his VP pick, Paul Ryan, disagree with Akin and "would not oppose abortion in instances of rape." But while Romney has consistently supported abortion in cases of rape, incest, and to protect the life of the mother, his running mate, Paul Ryan, is a different story. Ryan has supported antiabortion legislation that would allow hospitals to deny a woman an abortion even if it would save her life, that would ban abortion in cases of rape and incest, and that would outlaw forms of birth control and IVF.
As it stands in draft form, the Human Life Amendment contains no exception for rape, but it still has to be approved by the entire platform committee today and by delegates next week. So it's possible that Mitt Romney could make good on his promise to not oppose abortion in instances of rape by tweaking the amendment, but not likely. Both George W. Bush and John McCain supported exceptions, but they did not insist on a change in the party's platform, perhaps hoping to appease social conservatives. Between the GOP's official platform and VP hopeful Paul Ryan's rigid stance on the issue, a vote for the Republican ticket in November could mean a vote for no abortion, period.