Adam Scott Auctions Off Trip to Grocery Store With Him
Go Grocery Shopping With Adam Scott, For the Right Price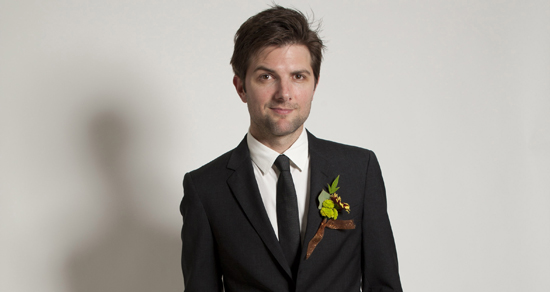 Boyishly good-looking Adam Scott, from Parks and Recreation and the late (but great!) Party Down, is auctioning off a trip to the grocery store with him on eBay.
All money will go to the Los Angeles Regional Food Bank, and the current bidding price is $800 with three days to go. There are a few caveats, though, but bonuses, too. You've got to be in LA (though any store is game!) and pay for your groceries, and the date will depend on Adam's schedule, which is booked until at least February. On the plus side, he will wear a "T-Shirt w/UR Face While Shopping w/U!" and talk to everyone, anyone, or at least the check-out person about you. You can bring a friend, but I don't know why you would.
It's part of Upright Citizens Brigade's Comedy Death-Ray's Nativity Pageant on Dec. 14, and he's not the only celebrity auctioning his time and things. Larry David will fill out any greeting card, Sarah Silverman will go to brunch with the winner, and comedian Rob Huebel will come to someone's house and watch TV.
It sounds awkward and awesome at once, which is actually better than just awkward!