Afghan Model is Afghanistan's Version of America's Next Top Model
Afghanistan's Next Top Role Model?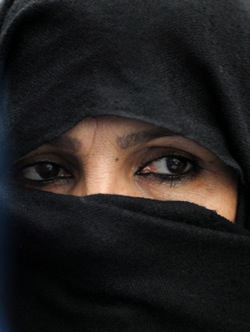 When you think of America's Next Top Model, progressive surely isn't the first adjective that comes to mind. But, the Kabul-edition called Afghan Model, is in fact, a groundbreaking — and dangerous — brand of entertainment in a country that doesn't even have a word for "model" in either of its two main languages.
Not surprisingly, the search for Afghanistan's next (first?) top model is on a new network with a reputation for challenging the country's conservative status quo — so it's not all smizing through burkas. The models show off fake eyelashes and high heels, and sparkly head scarfs also make the wardrobe cut.
The competition is open to both men and women, and of the initial 3,000 people who came out for auditions, only 10 were women. All were chosen, but three had to leave once their families found out. While the biggest risk of the American version is getting trampled at an audition (next season not impressing Vogue's Andre Leon Talley will be a danger too), in Kabul the murder of one male contestant is still unsolved.
So out with the Taliban, in with reality TV! Of course, nothing is certain in Afghanistan; one contestant told The Atlantic that he "hopes the Taliban will be okay with TV if they return to power." Do you find it depressing or inspiring that some see reality TV as a form of free expression worth risking their lives for?