Alexis Bledel The Good Guy
Alexis Bledel on Relationships, Fans, and Her New Role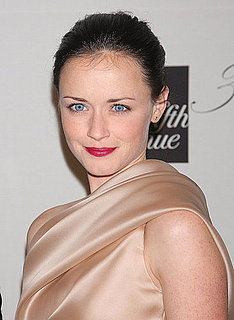 Alexis Bledel has been out of the spotlight for some time, but she'll be back this Friday when her promising new romantic comedy, The Good Guy, opens. Parade magazine talked to her about the movie, her love life, and her fans. Here are the highlights.


On making bad decisions in relationships: "You have to walk the line and be ready to make mistakes in relationships. . . . I think everybody is disappointed sometimes. I think everyone has a different perspective, a different point of view in terms of what they're looking for. I try to just be in tune with what is right for me. Sometimes you're right about a guy, and sometimes you're wrong. It's like Vegas kind of. But that's real life."
On her safe-sex scene: "We almost never see people dealing with a condom in a romantic moment, even though it's a reality. I wonder why that is. I liked that scene because it sets a realistic tone. It's not about embarrassment, but like the awkwardness that happens."
On fan mail: "I don't read a lot of fan mail because some of it is a little strange. That was especially true when I was doing Gilmore Girls."
Although I've always had serious love for Rory Gilmore, I'm happy to say I never sent Alexis a crazy fan letter! What do you make of Alexis's relationship wisdom?