Is Amanda Knox Innocent?
Do You Think Amanda Knox Is Innocent?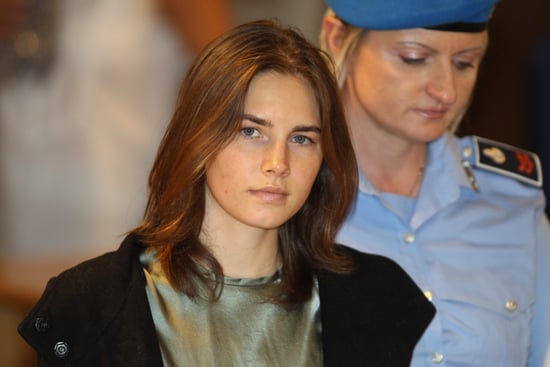 Amanda Knox's Italian murder trial has already been heavily reported on and even made into a Lifetime movie. But now the former American exchange student, who spent four years locked up in Italy on charges she killed her roommate Meredith Kercher, is telling her side of the story. To mark the release of her memoir, Waiting to Be Heard (out today), she sat down with Diane Sawyer for a primetime interview that airs tonight at 10 p.m. EDT.
After an extremely confusing and tabloid-ready trial in Italy, it looked like Amanda could finally put the ordeal behind her when a jury overturned the murder conviction of Amanda and her ex-boyfriend Raffaele Sollecito in 2011. But last month, the Italian Supreme Court threw out the acquittal and ordered a retrial. In a preview clip from her first interview since she was released, Amanda called the latest development "extremely painful" and said: "I felt like after crawling through a field of barbed wire and finally reaching what I thought was the end, it just turned out that it was the horizon. And I had another field of barbed wire that I had ahead of me to crawl through."
In her book, Amanda promises to share her side of the story. On the night of the murder, she writes, she was smoking marijuana with Raffaele and reading Harry Potter in German. She also discusses how prison guards sexually harassed her and shares that she wrote a letter of sympathy to the victim's family but was advised by her lawyer not to send it. Despite the new details from Amanda herself, the case remains confounding.
Sympathetic observers say Amanda is a victim of an unfair Italian justice system that used contaminated DNA evidence; labeled her a "she-devil," "witch," and "femme fatale"; and used her sexual history against her in court. Those who maintain her innocence also point to Rudy Guede, an Ivory Coast immigrant whose DNA and fingerprints were found in Meredith's room and on her body. Rudy was also convicted of Meredith's murder and of sexually assaulting her. Still, others cite Amanda's shady actions after the murder as evidence that she is not innocent. As part of the case against her, police told the court that Amanda behaved inappropriately before being questioned by the police immediately after the murder. For example, they said she did cartwheels and splits at the police station. As for victim Meredith's family, they said they are "happy" Amanda will be back on trial. What do you think?