Amanda Seyfried Talks About Her Long-Distance Relationship With Dominic Cooper
Amanda Seyfried Talks Long-Distance Love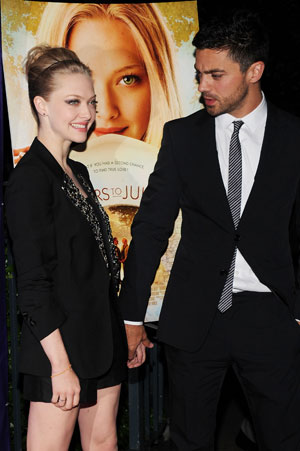 Last we heard from Amanda Seyfried, she seemed a little sad despite her starlet status. But success isn't all bad: it certainly makes long-distance relationships easier when you can afford to hop a plane to London if you're lonely.
Still, even Seyfried admits "there's nothing easy" about a long-distance relationship, even for the rich and famous. In the latest issue of InStyle Hair, the Letters to Juliet star talks about her ocean-separated romance with Dominic Cooper, her boyfriend of three years. Judging by this cute photo from her recent premiere, things seem to be going well.
Seyfried says she and Cooper use Skype to stay close: "It's boring, but it's true." Sometimes, they'll even video chat while going about their household chores.
"The other day, I was cleaning, he was cleaning," she recalls. "We couldn't see each other — we were just scrubbing away and talking like we were in the same room."
As someone who likes to be kept company while housecleaning, this makes total sense to me. Aww, stars really are just like us — though Amanda probably has more enviable hair.
Have you ever used Skype to shorten the distance of a long-distance relationship?