Amanda de Cadenet and The Conversation
Why We're Crushing on The Conversation's Amanda de Cadenet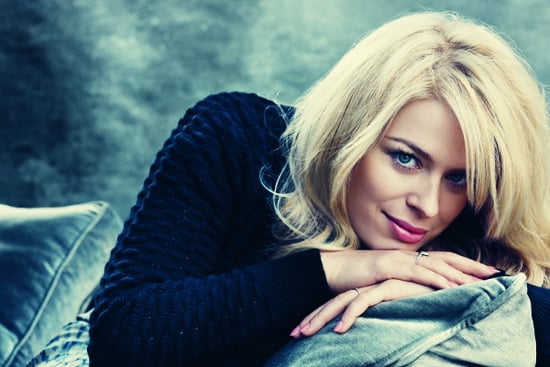 You may not know British TV personality and photographer Amanda de Cadenet yet, but we promise you she's someone you'd want to sit down and have a chat with. Which is exactly what she's doing with a plethora of high-profile women (many of whom are her friends) for her new show The Conversation With Amanda de Cadenet. Coproduced by Demi Moore and Amanda, The Conversation is a new Lifetime series premiering April 26 that features intimate, one-on-one interviews between Amanda and various female celebrities, politicians, and musicians on the issues women care about. It's also sprinkled with "real" women on the street answering similar questions.
This week we were lucky enough to chat with Amanda over the phone, and we can't wait to share her musings on her personal relationships and life challenges, her thoughts on hot topics like Fifty Shades of Grey, and what it was like interviewing some of today's most famous and influential women on the tough topics we all can relate to. But first off, who is Amanda de Cadenet and what makes her so cool? Here are six things to know:
Cool runs in the family. Her mom was a model and her dad is a race car driver.
She's a motorcycle mama! Her dad taught her how to ride when she was only 6 years old, and her favored mode of transportation today is her Ducati.
At only 14, she became the host of two TV shows in the UK: The Word and Breakfast.
After her TV gigs, she decided photography was her passion, and she became the youngest woman to shoot a Vogue cover. She's also shot for magazines like Rolling Stone and Vanity Fair, in addition to ad campaigns for Converse, Roxy, and Absolut.
She's got a thing for rockers! Her first husband was Duran Duran bassist John Taylor, and her current hubby is Strokes guitarist Nick Valensi.
The 39-year-old mom has 5-year-old twins with Nick and a 19-year-old daughter from her first marriage.
With many of these intimate discussions taking place on the couch in her own LA home, Amanda isn't afraid to get real about everything from sex positions to body image with such stars as Jane Fonda, Zoe Saldana, Sarah Silverman, Gwyneth Paltrow, Lady Gaga, Miley Cyrus, Eva Longoria, Gabby Sidibe, and many more. And Amanda is proud of her ladies, telling us that they all make great role models. She said, "They're kind women. They're very compassionate. They're very down-to-earth, and they are truly women's women. You know how people say, 'She's not a women's woman'? These woman are."
Stay tuned for more of our interview with Amanda, and check out a preview of The Conversation below!