Amateur Porn: Our America With Lisa Ling
The Upside and Downside to Creating Porn With Your Partner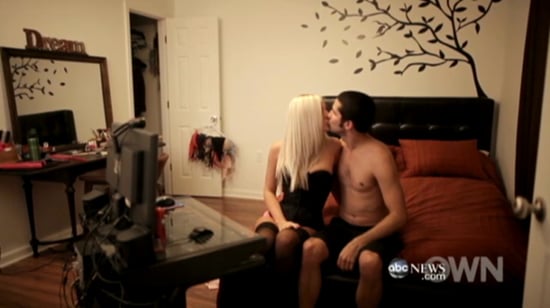 On the season two premiere of Our America With Lisa Ling last night, Lisa explored the growing underground world of amateur porn. And perhaps the most surprising porn entrepreneurs interviewed were the couples who aren't just together on camera, they're in committed relationships in real life as well. There were a couple of young parents who do porn to support their family, Tyler and Berkley, and a 50-year-old woman, Ciara, who performs while her husband of 20 years, Patrick, films her. But does the couple who creates porn together stay together?
For Tyler and Berkley, who film themselves having sex together five nights a week, the money they get from their online amateur porn (about $1,000 a week) goes toward supporting their toddler and is a means to an end. But they admit that they've stopped having sex outside of work because their night job is a "sex killer." And they hope by the time their daughter is old enough to ask questions they'll have moved on. In their case, creating porn seems to be a drain on their relationship and probably not the healthiest environment for raising a family.
Ciara and Patrick, on the other hand, say that since they've started their porn business a year ago their relationship in the bedroom has gotten better, and that they are now more open to trying new things. Patrick seems to really love filming and photographing his wife, and she loves getting in touch with her sexy side. The only downside? Their family and friends have no idea what they're doing behind closed doors, and now that the show has exposed the truth, they don't know if they'll be accepted by their loved ones.
If you were desperate for cash, or just looking to spice things up in your relationship, would you ever consider filming you and your partner having sex for money?
Keep reading to watch a video clip from the show!