Americans More Open Minded on Social Issues
Americans More Open-Minded About Social Issues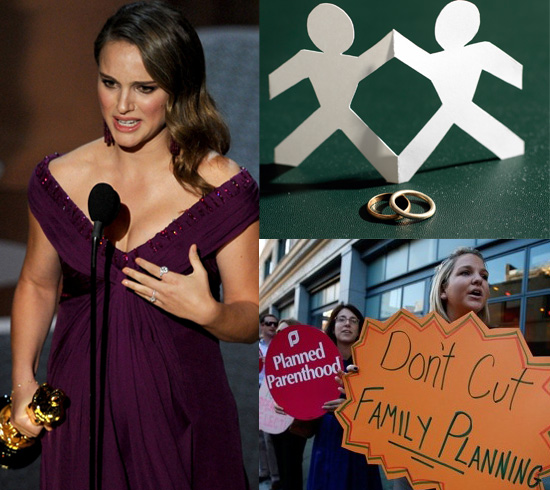 When conservative ex-presidential candidate Mike Huckabee attacked Natalie Portman for her pregnancy, I'd like to think it comes off as predictable and almost comical to most. Channeling Dan Quayle's Murphy Brown moment, Huckabee said:

"Natalie Portman or some other Hollywood starlet who boasts of, 'Hey look, you know, we're having children, we're not married, but we're having these children, and they're doing just fine.' But there aren't really a lot of single moms out there who are making millions of dollars every year for being in a movie. And I think it gives a distorted image that yes, not everybody hires nannies, and caretakers, and nurses. Most single moms are very poor, uneducated, can't get a job, and if it weren't for government assistance, their kids would be starving to death and never have health care. And that's the story that we're not seeing, and it's unfortunate that we glorify and glamorize the idea of children out of wedlock."
Huckabee must not be up on his Hollywood gossip; Natalie, who is engaged to Benjamin Millepied, is not a single mom-to-be. And anyone who can't tell Natalie Portman has more money than most expecting mothers has bigger problems to worry about. Don't even get me started on the hypocrisy of conservatives praising the ironic abstinence position of teen mom Bristol Palin. Thankfully, new data show more Americans have views on social issues that are more progressive than Huckabee's.
A new survey from Pew found that support for gay marriage and legal abortion is at an all-time high. In 2009, only 37 percent of independent voters supported gay marriage. Today 51 percent do. As for abortion, 51 percent of independents want it to be legal, compared to 37 percent in 2009. Overall, 54 percent of Americans support legal abortion, up from 50 percent in 2009, and 45 percent support gay marriage (while 46 percent oppose), up from 42 percent in 2009.
We can only hope that this shift will make politicians rethink ridiculous "family value" critiques of actresses, and more importantly convince them to stop defunding crucial reproductive health institutions like Planned Parenthood while also promoting marriage inequality.