Anderson Cooper to Have His Mother on New Daytime Talk Show
Anderson Cooper Will Tackle Issues Important to Women and Feature His Mom on New Daytime Show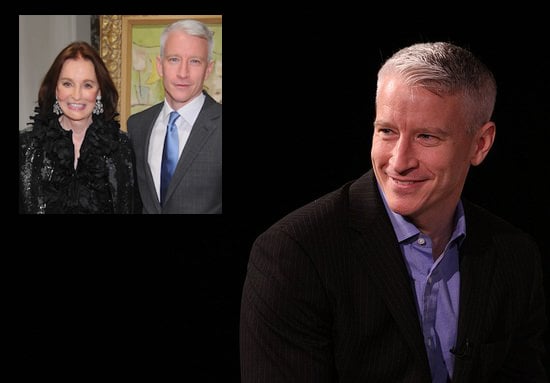 Anderson Cooper's new daytime show Anderson kicks off Sept. 12, and we can expect to see a more personal side of the news anchor. On the show, Anderson plans to be part of the conversation about topics ranging from social issues, human interest stories, and pop culture phenomenons. Anderson chatted with reporters this morning and gave us more insight into his latest project. Here are five things to know.
He'll take on issues important to women. Anderson wants to offer a fresh perspective on social trends impacting women. So far, he says, that includes marriage, custody, and food issues.
His mom, Gloria Vanderbilt, will be a guest. Anderson revealed that his 87-year-old mother has watched tapings from the studio audience already, raising her hand eagerly to ask questions, and he plans to do a whole hour on her.

Anderson explained why, with these touching words about his mom: "She was born in the '20s into this family of great wealth, and she suffered tremendous tragedies in her life. Her father died when she was an infant, she was the subject of a custody battle where she was taken away from her own mother, at the time it was call the 'trial of the century.' And yet, she is somebody, no matter what has happened, you know, my brother killed himself in front of her, she's a survivor. She has this inner core, determination, and drive to move forward, and to remain open to being hurt. My mom is 87, and she still thinks the next great love is around the corner. To be able to survive, not with a thick skin or tough hide, but to survive and still have your heart be open, to still be open to new experiences, and new heartbreak, and new love, and new triumphs, that's something I've learned from her."
It's kicking off with high drama. His first episode will feature the parents and boyfriend of late singer Amy Winehouse, and he's already shot an episode with The Real Housewives of Beverly Hills, which will also air next week. Anderson thinks these guests have the potential to teach his audience something. He thinks Amy Winehouse's struggle is "a story that relates to everybody. Who doesn't have someone in their family overcoming substances abuse issues?" As for the housewives, he says: "We spent half the show talking about Russell's suicide, and whether the show should be on the air at all, and whether they bare any responsibility, or if reality TV bears any responsibility. It raises real questions about reality TV, what role — if any — it plays, how they recruit these people, and what these people are really in for."
He's going outside his comfort zone. "I went spray tanning with Snooki," he admits. I'm looking forward to that episode.
It's personal, not strictly business. Anderson thinks you can have more fun in daytime than news. "It's nice to show different sides of you," he said. "I want viewers to see who I am and get a sense of what I'm like as a fully rounded three-dimensional person."
Will you tune in?