Angelina Jolie Says Cleopatra Was Not a Sex Symbol
Angelina Jolie Wants to Play a Smarter, Less-Sexy Cleopatra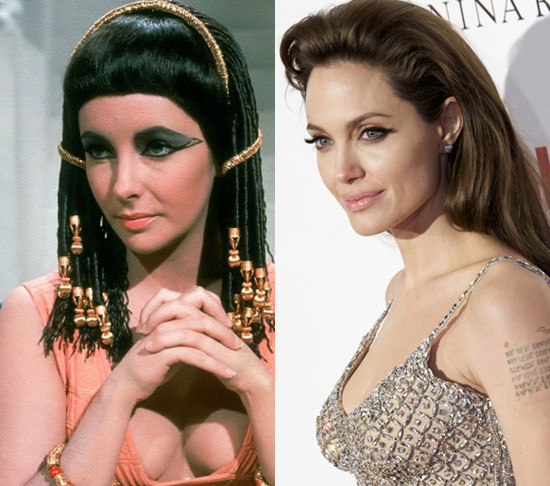 Angelina Jolie recently opened up about her family life, career, and partner Brad Pitt's manliness in an extensive interview with the UK's Telegraph, while also touching on the life of another famous sex symbol: Cleopatra. The actress is set to play the iconic queen in an upcoming film directed by David Fincher, but she says this will be much more than a modern remake. It will feature a completely different Cleopatra, one claimed to be closer to the real woman.
Angelina says even she misunderstood the Egyptian leader and strong mother who spoke five languages. Comparing her vision to that seen in Elizabeth Taylor's epic film, Angelina explains: "My performance will never be as lovely as Elizabeth's. We are trying to get into a different truth about her as a pharaoh in history and not as a sex symbol, because she really wasn't. Even this idea of her having many lovers — it was possible that it was only two. She is very interesting, but she wasn't a great beauty."
The difference in portrayal didn't originate with Angelina, but rather with the academic biography Cleopatra: A Life by Stacy Schiff, which will serve as the basis of the movie. The book presents Cleopatra as a groundbreaking female leader who used her smarts rather than sex appeal to rule. Do you think Angelina can pull off the role?