Anna Chapman's Ex-Husband Interview
3 Signs You Married a Russian Spy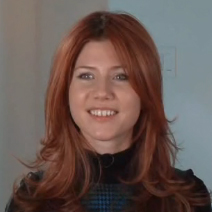 Alex Chapman, the ex-husband of accused Russian spy Anna Chapman, never imagined his wife of four years was the femme fatale of a Russian spy ring. Looking back? There were some red flags.
Her obsession with James Bond movies may be innocent enough, but these three signs are more telling. In hindsight anyway!
Dressed up as KGB interrogator during sex: When experimenting with S&M, Anna liked to be the dominatrix dressed up as a Russian interrogator.
Followed by men in sports cars: After being denied entry at a Moscow nightclub, a man climbed out of a Lamborghini, had a word with the bouncer, and the two were then whisked right in. Sounds more like the mob, but an omen either way.
Produced Russian visas in a jiffy: Anna's father, who Alex now believes to be a former KGB agent, secured him a Russian visa by "bending the rules."
Ultimately, though, the marriage ended after a fight over a joint bank account. And, really, if the suggestion of joint checking sends one person fleeing, it wasn't meant to be.