Anna Kendrick Pitch Perfect Interview
Pitch Perfect's Anna Kendrick and Brittany Snow Talk Karaoke Favorites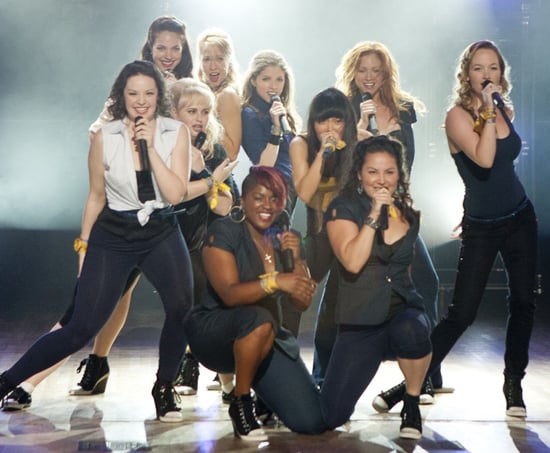 The upcoming musical comedy Pitch Perfect boasts a funny trailer, writer Kay Cannon of 30 Rock, and Elizabeth Banks and her husband as producers. Oscar nominee Anna Kendrick stars as Beca Mitchell, a college freshman who reluctantly joins an all-girls competitive a cappella group. Brittany Snow, who showed off her musical abilities in Hairspray, also joins a cast that includes the hilarious Rebel Wilson of Bridesmaids and Adam DeVine of Workaholics.
I traveled to the Baton Rouge, LA, set of Pitch Perfect last November and caught up with Anna and Brittany between takes of a competition scene. I found myself dancing along while watching the women perform their a cappella mashup of "The Sign" by Ace of Base, "Eternal Flame" by The Bangles, and "Turn the Beat Around." Somehow, those songs worked together!
Just keep reading for my conversation with Anna and Brittany, who told me that songs by Coolio and Etta James are among their favorite to sing.
You show off your singing skills in this movie. What's your favorite song to sing?
Brittany Snow: My karaoke go-to is "Gangster's Paradise" by Coolio. That's what I usually do, and B-52's "Love Shack."
Anna Kendrick: I like that song. My answer sounds stupid now, but that Etta James song "I Just Want to Make Love to You." When she says, "All I want to do is cook your bread," it's this weird reverse sexism thing that makes me . . .
Brittany: What? She what?
Tell me about your characters and their role in the singing group The Bellas.
Brittany: I play Chloe, an original member of The Bellas. She's going to be a senior, and she takes over the reigns to bring in new Bellas. She is kind of the optimistic one. She likes the group of misfits that we encounter and is more positive about the diversity of their expertise, even though sometimes it's a little weird. She thinks it's funny, and she really likes Beca, Anna's character, and they have a connection from the beginning.
Anna: I play Beca, and I come in sort of dealing with some anger issues. I think a cappella's pretty lame, but I'm really interested in music. I find myself coming around to it and staying for the girls more than anything.
Do you, in real life, think a cappella is cool?
Anna: This made me feel pretty nerdy when I came into this. It reminded me that I totally dig this kind of thing.
Brittany: It's actually really cool, though.
Anna: No, I know. But that's what I mean, the fact that we think it's cool. That's not good.
Brittany: Says who?
Anna: I don't know. I guess that's true. Brittany is a nerd about Clueless. Brittany could like recite Clueless to you now.
Brittany: Yeah, I know every word to Clueless and Robin Hood: Men in Tights.
Anna: Word.
Brittany: I do. And I'm also really into glow-sticking.
Anna: Oh, my gosh, you guys, it's amazing. You just have to hang out with her long enough, and she will glow-stick.
Brittany: I started in eighth grade, and there was no raves involved. It was just something that I thought was really cool by myself.
Anna: But like, did you want to rave?
Brittany: I didn't know what raving was. I was in eighth grade, but I wanted to make pretty cool things with lights, so I got really good at it.
What were some of the challenges to shooting the performances?
Brittany: The shoes.
Anna: Oh, my god, I want to murder our costume designer. I will have his head on a platter.
Brittany: She's kidding.
Anna: I'm not kidding.
In addition to songs and dance, there's a love story in this film, right?
Anna: Yeah. There's a classic, like friend-zone-type story going on. It's that classic thing that 18-year-old girls do where the guy who makes them feel really safe and makes them laugh is the guy that they have a mental block on dating.
Did you do that when you were growing up?
Anna: Oh, probably. When you're that young, guys complain about being friend-zoned, but girls don't know they're doing it. So I'm sure that I did.
To find out more about the movie, which is out Oct. 5, "like" Pitch Perfect on Facebook.