Anne Frank's Protector Miep Gies Passes Away at 100
Anne Frank's Protector Miep Gies Passes Away at 100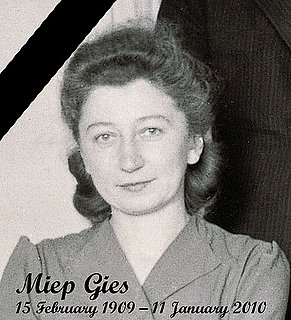 Miep Gies, the woman who protected Anne Frank for more than 25 months during World War II and preserved the young girl's diary, died yesterday at the age of 100. She was the last surviving protector of the Frank family.
Despite her noble actions, Miep always imparted deep humility. Here's a look back on some of her most striking statements:
On being a hero: "I don't want to be considered a hero. Imagine young people would grow up with the feeling that you have to be a hero to do your human duty. I am afraid nobody would ever help other people, because who is a hero? I was not. I was just an ordinary housewife and secretary."
On being asked by Otto Frank to hide his family: "I answered, 'Yes, of course.' It seemed perfectly natural to me. I could help these people. They were powerless, they didn't know where to turn."
On her legacy: "I stand at the end of the long, long line of good Dutch people who did what I did and more — much more — during those dark and terrible times years ago, but always like yesterday in the heart of those of us who bear witness."

In her diary, Anne had this to say about Miep, who brought them books and newspapers and special gifts for birthdays: "It seems as if we are never far from Miep's thoughts." Our thoughts go out to Miep Gies's family and friends.

Source: Flickr User juffrouwjo