Apple Less Afraid of Menstruation Than Tampon/Pad Companies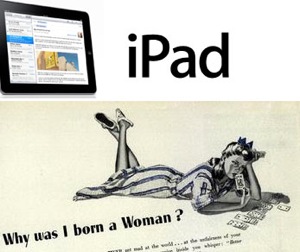 Apple might not be afraid of using terms that conjure up images of a woman's monthly menstrual cycle but advertisers — and many of us — are. The tendency to avoid saying menstruation at all costs is matched only by those bears in Charmin commercials included just to distract us from toilet paper's true use. The results can be much more awkward than just blurting out: "This is for your period" or "I have my period." Actually when you think of it, period is a euphemism too!
Some of the leading euphemism include:
"A hygienic problem" — From a vintage Kotex ad that never even says what it's for.
"Calendar days" — This one doesn't really make sense, but I get it.
"Difficult days" — Sanitary napkins promise to make them easier.
"Mother Natures' monthly gift" — I wouldn't really call it a gift, but Tampax would.
"That not-so-clean feeling" — A classic!
And some colloquial highlights:
"Surfing the crimson wave" — from Clueless, of course.
"Aunt Flo" — I wonder if women named Flo mind this one?
"Communist invasion"
"The Curse" — A little dramatic, isn't it?
"On the rag" — Always seemed vulgar to me.
What's your favorite?