Arkansas Supermarket Covers Elton John Magazine Cover
Arkansas Supermarket Protects Families From Elton John's Baby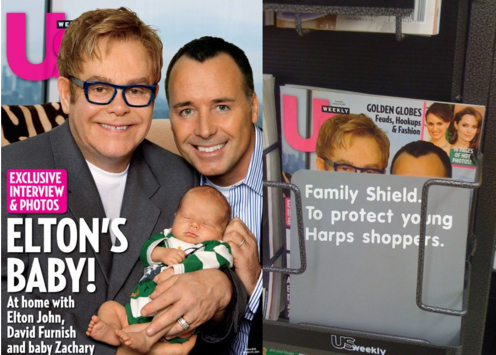 For socially progressive individuals, living in a more conservative state presents its challenges. Last year, gay Mississippi teen Constance McMillen was ostracized by her peers and school when she tried to wear a tux to prom, but conversely was welcomed with open arms to the White House and NYC's gay pride parade. And living in a place like, say, Arkansas might mean you won't see a magazine cover with Elton John, his husband, and their newborn child because it's been covered up by a "family shield."
That's what happened to an Arkansas woman last night when she was shopping at her local Harps grocery store. But instead of letting out a sigh and moving on, she snapped this photo and used Twitter to unleash it on the Internet.
GLAAD did some investigating, speaking with a Harps executive who explained that several customers had complained about the magazine cover. I can imagine a parent complaining that this cover might prompt some uncomfortable questions from their children. But maybe if we didn't try to hide what appears to be a perfectly healthy and loving family from children, we wouldn't have to "explain" homosexuality to them later. Then parents could focus on explaining teen pregnancy, eating disorders, relationship drama, or other tabloid cover favorites to their children instead.
And can I add that if I were a kid expecting to find something like Playboy behind the family shield, I'd be pretty disappointed that all I got were two older dudes and a baby.