The Art of Marriage Quotes
What Ruined Marriages in the 1920s
A few pages of The Art of Marriage: A Scientific Treatise, a 1926 sex manual for the young, newlywed, and clueless, were dug up today. In order to buy the book, people had to sign the agreement below, certifying they were "a married person . . . desirous of studying the subject of marriage."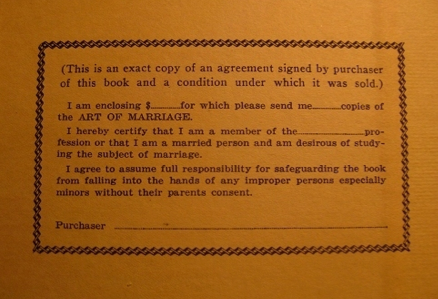 Once readers were married, author Hayden J.F. spouted off his opinions masked as facts and advice. He tackles frigidity below.


The cause of bad marriages: "The one great overshadowing cause of sad and unhappy marriage [sic], is frigidity in women."
How frigidity ruins marriages: Frigidity is detrimental to the home. Since frigid wives have strong masculine tendencies and acquire a critical attitude toward men . . . it is quite natural that they aspire to take men's work. . . . They try to be leaders in the woman suffrage movements and in clubs; thus neglecting more important things — their children, their home duties, and their husbands who are supporting them.
European women vs. American: "The sexual sensibility of (European) woman is, as we have seen, of quite a different nature from that of man; but in intensity it is at least as great as that of man. Now in America we find conditions very different. The alarming sexual degeneracy of the women in this country is very strikingly shown by the various sex experts who have thousands of cases of unhappy marriage coming before them, and whose information is doubtless about correct. Dr. C.W. Malchow thinks, that in this country there are only five percent of all married women who properly respond to the caresses of their husbands at all times."
What causes frigidity: "Masturbation is doubtless one of the most prevalent causes of frigidity in women."
The only thing worse than this advice is this writing. Doubtless!