Artist Alex Holder's I Love You But Project
I Love You But: What Quirk Made You Realize It Was Over?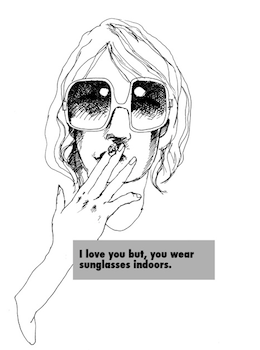 Artist Alex Holder is making headlines now for re-creating old-school romance novel covers, but I'm more interested in her side project ILoveYouBut.com.
The website is a picture book filled with caricatures and quotes about the moments people realized relationships were over; basically dealbreakers that emerge once you're in the relationship. Some are serious, like "I love you, but I don't like you," and others are so idiosyncratic I don't believe they're the whole story, but they do make good stories. Here are 10 of my favorites.
I love you but . . .
you still read newspaper articles about Princess Diana.
you've hung your own graduation photo in your flat.
you believe protesting will make a difference.
you take your birthday too seriously.
you give yourself nicknames.
you order drinks you know they'll never serve.
you talk to strangers.
you look out of your window with binoculars.
you put exclamation marks at the end of every sentence!!!
you use the 24-hour clock in conversation.
What foible pushed you over — or near — the edge?