Ask a Soccer Coach: I Have a Bridesmaid Dilemma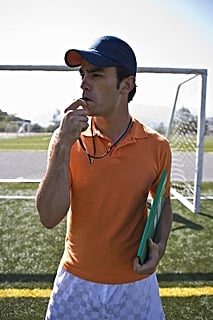 Conventional Wisdom is a different kind of advice column. Your questions will be answered by people from all walks of life rather than by advice experts. This week, a soccer coach tries to help out a newly engaged reader. If you have a question you'd like answered on Conventional Wisdom, you can submit it here.
Today's Question:
I got engaged on Christmas Day! Yay! But here's my dilemma. I have an old friend that I have been talking to for the past few months now. We found each other on Facebook and keep in touch on a regular basis. She has been there for me when I was having some problems, and I've discussed my relationship with my current boyfriend and soon-to-be husband. Today while I was telling her all about my dress and our plans for the location of the wedding, she asked me who my bridesmaids were going to be. I tried to get out of the question, but she asked again, and I told her I had not planned anything yet and that they may be my cousins. But really I plan to ask my two best girlfriends and three close cousins to be in the wedding. I get the feeling that she expects me to ask her, but I don't want to! What do I do to spare her feelings and not give her the idea that she is going to be in the wedding?
To see the soccer coach's answer,
.
Congrats! It's too bad about your friend situation. No one wants to have to have to "rank" their closest friends, and it's unfair of your friend to make you feel guilty when this occasion should be about you and your future husband. To soften the blow, you should reiterate that it's going to be a small wedding and that you're very close to your family and these particular cousins.
If she's really that good of a friend, you can probably find another role for her, either in the wedding or in preparation for it. Not everyone can make the starting 11 (or five in this case), but every team needs a few key contributors coming off the bench. There's no shame in such a role. You could ask her do a reading at the wedding or ask for her advice or input on anything from the decorations to the honeymoon. If nothing else, it'll remind her that you still consider her a close and valued friend. She may be disappointed, but especially in this case she should have your best interests in mind, not her own.