Astrological Predictions For the Oscars
The Stars Point to Oscar Wins For Natalie Portman, James Franco, and The Fighter
We're making our own Oscar predictions around here, but sometimes it seems like the results are less about merit and more about luck. I got on the phone with astrologer Ophira Edut — a member of the experienced and consistently accurate AstroTwin duo — to discuss the astrological factors influencing Sunday night's results. Here are her predictions!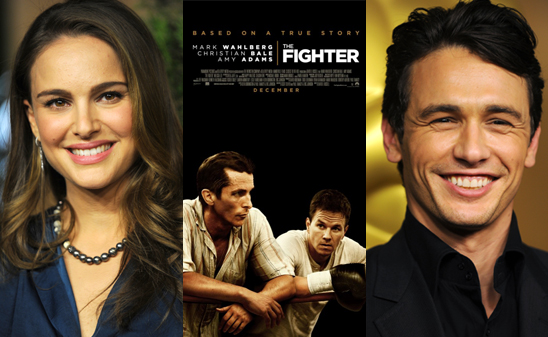 It's all about Aries. "Jupiter the planet of luck is in Aries right now, so anything with an Aries theme, which involves heroism or a triumph over the odds, has a good shot. Aries is a fighter sign, so The Fighter and The King's Speech should do well overall."
There will be surprises. "During the Golden Globes and SAG awards, Jupiter was in Pisces, which is more like watery and dark, so all the things that won before might not win the Oscars."
Expect red on the red carpet. "This year a lot of bright colors, red or pink, will be a good look — bold, bright colors, more so than the usual pastels. Hair and even earrings are going to be big, going with the Aries theme. Makeup and hair is going to be heavy in the dos and the don'ts."
There will be fashion risks, à la Lady Gaga. "This is a great year for people to do something a little more trendy. Lady Gaga is an Aries. The egg trick was a good one. Aries was the sign of the Grammys, too. So even though she didn't win, she ended up being the most talked about person there. The Golden Globes was a Pisces energy, more watery, flowing, enchanting. This is more fierce and bold, and even a little shocking."
Anne and James will have sexual chemistry. "James Franco might surprise us by being funny and on target. Anne Hathaway is a Scorpio, and there's always a level of sexual chemistry between Scorpios and Aries. It's going to be kind of hot to see them together."
Best actress: "Natalie Portman. The stars are aligned for her. She's at a point as a Gemini to reap the rewards of her hard work."
Best actor: "James Franco. James is an Aries, so that gives him a strong chance of winning. If he doesn't because he's hosting, Colin Firth could win. It'll be a Capricorn moon that night, which is a good night for him. Capricorn is his house of fame. He'll probably make a long, memorable speech if he wins. And he's a Virgo. There are a couple of Virgos that came up strong. Colin Firth and Melissa Leo. They were just finishing a cycle of trying to reinvent themselves or be noteworthy. So for Colin, it could be a nice reward for all the hard work he did."
Best picture: "The Fighter. Now is all about Aries, which is ruled by Mars, the warrior planet."