Attending an Ex's Wedding
Questions to Ask Before Saying Yes to an Ex's Wedding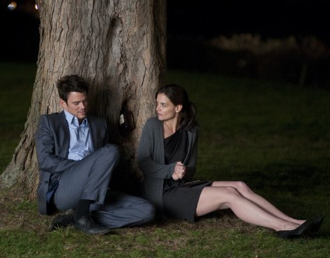 The plot of The Romantics, out today, revolves around an incestuous group of friends attending the wedding of two of their own, so naturally there's an ex (Katie Holmes) invited.
Exes bring up a lot of drama at weddings. Brides and grooms must consider their soon-to-be spouses feelings when deciding to send an invite, but most of the drama occurs after the invitation is sent. So before you choose the salmon, here are few questions to ask yourself.


Can you bring a date? Having a date, even if it's just a friend, will go a long way. If the invitation is for you only, consider what friends will be there and who they'll be with. If they're in the bridal party, you may not see as much of them as you hope. If they're there with dates or spouses, consider the couple first. On the other hand, having a date can be equally stressful. Maybe you'd rather go alone!
How do you feel about the bride? If you haven't met her or there's any existing tension, think about what you plan to get out of the night. If fun doesn't come to mind, then consider it a red flag.
Are you dreading seeing his family? It's not just your ex and your emotions you'll have to confront, but his parents, siblings, and grandma who always said you were "such a nice girl." It's bound to be a bit awkward, but it should only be five to 10 minutes of conversation. Maybe less! If you think you can suck it up, go for it.
Why do you want to go? Is it to satisfy some self-destructive curiosity? Then just look at the photos on Facebook!
Will anyone care if you say no? Really? It's easy to think we'll offend someone after they've spent $15 on an invitation, but no bride or groom expects everyone invited to attend. They might even hope you — dear, controversial guest — say no.
Any others to add?