Attraction and Color
What Colors to Wear on a First Date (Not All at Once!)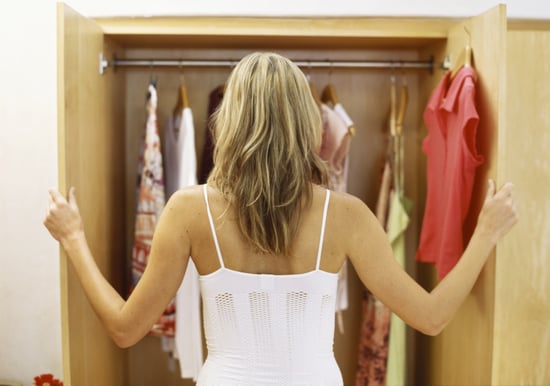 I'd say choose whatever color you look best in for a first date, but Match.com says the psychology of color disagrees. We know women are attracted to men in red and vice-versa, but what do other colors say? Fortunately, there are shades that say "come here" without going as far as come-hither red. Find out which color is best for you — and what colors we all should avoid — below.
Red: Of course, this shade tops this list. Bright red will say "here I am!" while deeper, more subdued shades should say "I'm here, for now."
Orange: It's bright, even when it's not, and it signifies hope, aspiration, and attraction. But according to Match it also says "you don't have an off switch when it comes to passion." I'm not entirely sure if this is a polite way of saying "easy," but I'll leave it to your discretion.
Green: Whether it's bright or earthy, green is all about energy, life, and growth. It's a youthful color that says "nice person ahead" and a can't-go-wrong way to present yourself on a first date.
Blue: It's not the first-date color for everyone, but it's perfect for many. The color of intellect and truth, blue says let's get to know each other first.
Purple: Purple is decadent. In the past, it's symbolized royalty and success, and it continues to inspire romance and coyness. It's like red's mysterious, hard-to-get sister.
Black: Not just for funerals! Black is every color combined, but instead of saying "I couldn't decide," it reads as alluring, mysterious, and maybe a little dangerous.
And what not to wear?
Yellow: Few people can pull of yellow, but if you're one of them, save it for a later date. Yellow may symbolize intuition and wisdom, but can read as self-involved. It's the color of friendship — and you wouldn't want yellow roses, would you?
White: Save it for your wedding. Its minimal cleanness may say low-maintenance, but, unfortunately, it also says purity and hard to get in a bad way.
And, yes, I realize pink isn't on the list. Maybe because it's a watered-down red? Pink certainly conveys romance and flirtation, but it also has a calming effect. That may tone down red's boldness, or it may veer into a youthful girliness similar to white's virginal effect. My advice? Ballet pink? No. Magenta? Absolutely.