Augusta National Admits Women
Condoleezza Rice Helps Break the Boys' Club at Augusta National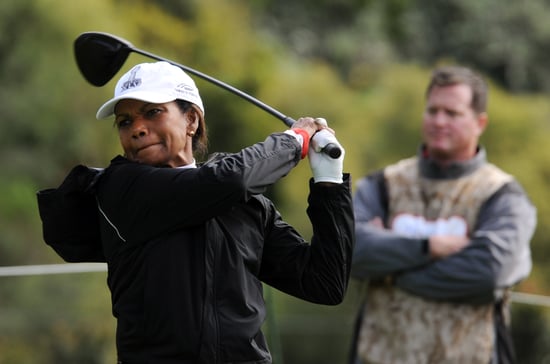 Augusta National is no longer a boys' club. The prestigious and controversial golf club, which holds the Masters tournament each year, has finally admitted two women: former secretary of state Condoleezza Rice and banker Darla Moore of South Carolina.
Built on a former indigo plantation, Augusta opened in 1932, and for a long time the club was stuck in a darker past. As the club's founder, Clifford Roberts, put it, "As long as I'm alive, all the golfers will be white and all the caddies will be black." Roberts died in 1977, but the club didn't allow nonblack caddies until 1983, and black members were not allowed until 1990. While Augusta's official rules haven't included racial discrimination for some time, the club has long maintained its prerogative as a private institution, and until today, women were not allowed to join the ranks of the club's 300 or so members.
Previous to its decision, Augusta had few supporters of its discriminatory policy. Back in April, both President Obama and Mitt Romney said they personally thought women should be admitted. It's a good sign for gender equality that two women will don Augusta's iconic green jacket along with some of the country's most prominent business leaders. Former chair of the National Council of Women's Organizations Martha Burk, who started a campaign against Augusta in 2002, agrees. She said today: "Oh my God. We won. It's about 10 years too late for the boys to come into the 20th century, never mind the 21st century. But it's a milestone for women in business."