Author Allison Winn Scotch Interview
Author Allison Winn Scotch on The One That I Want, First Love, and What-Ifs
In The One That I Want (paperback out today), 32-year-old Tilly Farmer is an optimistic school guidance counselor convinced all she needs to be happy is her perfect high-school-sweetheart-turned-husband and the future baby she's trying to have with him. But after a childhood friend cryptically gives her "the gift of clarity" she begins to see visions from her future, and they aren't according to the plan she's mapped out for herself. In this story about family struggles, being stuck in the past, and second chances, Tilly must decide if the life she so carefully put together is really the one that she wants. I spoke with the novel's author, Allison Winn Scotch, about first loves, what-ifs, and what she would tell her 17-year-old self.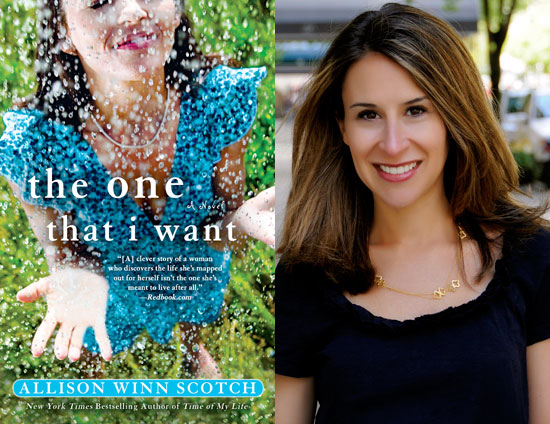 TrèsSugar: Did you draw inspiration for the book's protagonist, Tilly, from your own life? Do you share personality traits and characteristics with her?
Allison Winn Scotch: I related a lot to the characters in [my second book] Time of My Life, and I wanted to push myself. With Tilly she was really this foreign person to me in every sense. I didn't understand her; I didn't understand her choices. And I wanted to become a better writer through stepping outside my comfort zone. It forced me to dig deep. It took so many drafts until I finally understood her, and I feel like I'm a better writer for it.
TS: How did you finally understand her? And in what ways do you think your readers will relate to her?
AWS: In the earlier versions of Tilly I really, really wasn't getting her. Then about halfway through the book she starts to get really angry. And in the initial draft she wasn't angry. When I finally made her angry that's what I could tap into. I understood being really pissed off at waking up and discovering that a lot of the life that you wanted is not coming to fruition. And I think a lot of people of our age or our generation can get that. You've worked hard or you've maybe even compromised yourself or given up certain expectations, and then you wake up and you're like, "How did I get here? I made small compromises, but I never thought that my life would be this." And I understood that anger, not because my life isn't wonderful, but because I understand that disappointment. And once I did that, that's when she and I connected.
TS: In both Time of My Life and The One That I Want there's a time travel theme that forces the heroine to look back and question if she's made the right life choices along the way. Are there things in your own life that you would change if you could? Find out her answer when you keep reading.
AWS: In hindsight, I have a pretty great life. I've been married for nine years, I have two really great kids, and I have a career that I'm grateful for every day. Are there moments in my 20s that maybe I wish I hadn't compromised myself in relationships and sort of let my self-esteem take a blow? Well, sure. And I also went through a series of years in my 20s where I really didn't know what to do with my life career-wise. I tried on a bunch of different hats, none of them fitting particularly well. But I don't know that you can regret that, because if I look at the sum of where I am, don't all roads lead to here?
I hear a lot from women who have their what-ifs, and I think that it's an easy road to fall down. What if my boyfriend and I hadn't broken up? What if I hadn't married my husband? But there's not a lot that you can do about them, other than take action to try to fix what's happening in your life now. So I try not to entertain them too often.
TS: Toward the end of the book, Tilly thinks about what she would say to her 17-year-old self. What would you say to your 17-year-old self?
AWS: I would tell her to aim high, to expect a lot of herself, to know that failure is gonna happen and it's going to be OK, to understand happiness is sort of a moving target, and to, well, dream big. God, that sounds so like an Oprah ad. I would tell her that it's all going to work out even if it seems like it's not. I think that's really what all 17-year-olds need to hear.
TS: Tilly has an idealized view of her past, especially of high school and her early relationship with her husband. Do you think it's healthy to reminisce about your "glory days," or is it better to look forward?
AWS: I think it's a complicated mix of both. There are a lot of lessons to be learned in looking back and seeing how far you've come or maybe even seeing how off track you've gotten — looking at your 17-year-old self or your 25-year-old self and realizing that maybe you haven't fulfilled what you had aspired. I think that looking back can really help you make those tweaks to have a better, more streamlined future.
That said, there's a real problem if that's where you get stuck. And I think people can get stuck, especially with Facebook and with Google. You could spend endless hours looking at your exes and reminiscing about high school or college. I love looking at pictures of my college years, and I love being in touch with all those people who were so important to me. I remember at our homecoming seeing my college boyfriend and saying, "Well, we'll probably never see each again, so have a good life." And you never know, five years later all these people are going to pop up on Facebook, and you'll see pictures of their kids every other day. And that's a wonderful thing. The problem comes when you have a crappy day with your husband, and you think, "Wow, would that boyfriend have been a better option?"
TS: Do you think it's more difficult or easier to marry your first love like Tilly, who married her high school sweetheart?
AWS: Having not married my first love, I just would imagine it would be really hard. I would think that if you haven't gone out there and lived a full romantic life that you would maybe have even more what-if questions. At least if you have had that experience — growing as an adult and learning what is important to you in a relationship — your what-ifs are more lingering on what you've done, and usually you can put those to rest. "Well, I might miss him in this moment, but I know XYZ why he wasn't right for me." Whereas, if you have the unknown of not having been with anybody else, your what-ifs aren't really answerable.