BDSM Books and Movies For Beginners
Racy Reading and Viewing Recs From an Ex-Dominatrix
Are you kink-curious? In this adapted excerpt from one of our book club picks The Posh Girl's Guide to Play: Fantasy, Role Play & Sexual Bondage, author and ex-dominatrix Alexis Lass shares her racy book and film recommendations for beginners.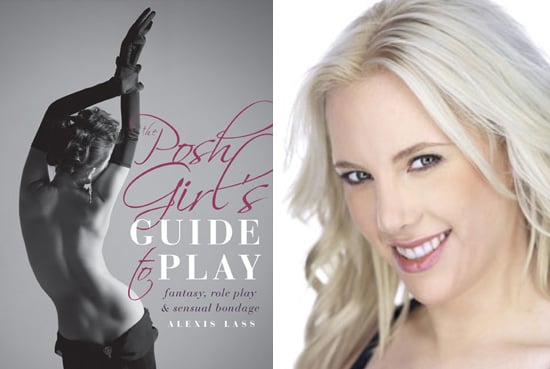 In The Posh Girl's Guide to Play, author Alexis Lass leads readers on a rollicking romp through a dozen chapters of meaty pointers and commentary on the delights of fantasy, role play and sensual bondage. And the cherry bomb on top is a tasting menu of racy fare from her Kink Bazaar of recommended books and films. She promises that all are yummy, sizzle-sexy delicacies, with fiction ranging from de rigueur novels (because they're steamy classics, you understand — not because she has to) to unsung or forgotten works to books hot off the hard drive. Sex-themed non-fiction. American, Asian, and European films. Online adult sites. Herewith, the . . .
Posh Kink-Themed Movies
For the newbie and timid kink-curious:
Secretary
A must. Just when you're ready to give up on doormat Lee, played by Maggie Gyllenhaal, she pulls out some tricks of her own.
9 1/2 Weeks
Another must. Just how far can things go? Mickey Rourke shows us.
The Lover
Based on the exquisite novel by Marguerite Duras, drawing from her own experience in girlhood. A beautiful, impoverished virgin gets sexually dominated by a très hot, rich businessman lover. Sound famil? Top-shelf script, production and acting.
Quills
Starring Kate Winslet and Geoffrey Rush. The last days of the indomitable Marquis de Sade, now an inmate in a Napoleonic-era insane asylum, where he fights a battle of wills against a tyrannical and prudish doctor.

Three Days of the Condor
A must-see starring a hot young Robert Redford (1975) and a sultry Faye Dunaway. In a powerful DRS P-esque scene, Redford (a good guy but a desperado here) holds Dunaway captive (at gunpoint, on her bed), and the heat melts the screen. They begin a romance.
Emmanuelle
The classic erotic movie of modern cinema, from 1974. S&M-y gold.
The Damned and The Night Porter
Worlds apart from the tame-by-contrast workplace shenanigans of The Secretary, these two films by Italian directors, both featuring Dirk Bogarde and Charlotte Rampling, are rich with inspiration for scene-setting and costuming. Luchino Visconti's The Damned (1969) lavishly, sensuously portrays the sadomasochism and transvestism rampant in Weimar Germany. Liliana Cavani's notorious The Night Porter (1974) memorably (and controversially) dramatizes Nazi sadomasochism. The iconic scene of Rampling performing a Marlene Dietrich song for lustful Nazi officers may be taste enough.
Waxworks (1988)
My favorite S&M-y scenes! A light horror film, as in not gory. In a memorable segment, a stunning young actress, a girl-next-door type, enters the world of the Marquis de Sade. Ten years after viewing, I still recall how hot these scenes were.
Claire's Knee
1971 French film starring Claire's knee as fetish object . . . an interesting one.
Click here for the kinky book list!
Posh Book List
For the newbie and timid kink-curious:
Fifty Shades of Grey by E. L. James
But of course. Or just wait for the movie.
Justine by Marquis de Sade
The book that sent him to prison. The translation by Austryn Wainhouse (Grove Press) is the only complete American edition.
Kama Sutra
Ahhh, the Bible. Anyone into sex should read this informative book.
Lovers' Massage: Soothing Touch for Two by Darrin Zeer
Ramp up that bondage massage.
Venus in Furs by Leopold von Sacher-Masoch
A classic, first published in Austria in 1870. Sexy, funny. Hit it!
The Story of O by Pauline Réage (pseudonym of Anne Desclos)
Now a classic, first published in 1954. Scenes of bondage, demonic desire, whips, masks, and chains, so explicit that early readers were convinced it was written by a man. Author Graham Greene wrote: "A rare thing, a pornographic book well written and without a trace of obscenity."
The Sleeping Beauty Trilogy by Anne Rice
Yes, she of the vampire novels. She wrote this one under a pseudonym in 1983, and it was reissued under more favorable social conditions in 2012. Why did she write it? "I decided to write the pornography I wanted to read, to prove that good S&M porn could be done."
My Secret Garden: Women's Sexual Fantasies by Nancy Friday
Women confide their sexual dreams.
My Mother/My Self: The Daughter's Search for Identity by Nancy Friday
Why we become our mothers (in ways that may not suit).
The Hite Report: A Nationwide Study of Female Sexuality by Sherry Hite
Helped fuel the sexual revolution by explaining us to us.
How to Think More About Sex (The School of Life) by Alain de Botton
Covers lust, fetishism, adultery, and pornography . . . everything but vanilla, because maybe there is no vanilla??? Botton writes in his intro, "Few of us are remotely normal sexually." Hmmmm.
Excerpt adapted from The Posh Girl's Guide to Play: Fantasy, Role Play & Sexual Bondage by Alexis Lass. Available from Seal Press, a member of the Perseus Books Group. Copyright 2013.
Photo by Peter Hurley