The Bachelor AshLee Interview
He Said, She Said: AshLee Talks Awkward "Women Tell All" Argument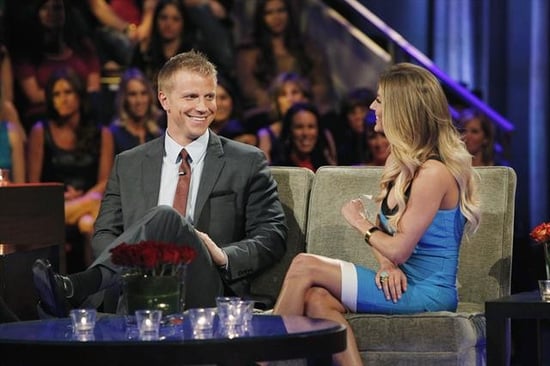 On tonight's "Women Tell All" episode of The Bachelor, Sean Lowe and AshLee Frazier had their first confrontation since AshLee's very cold exit on the overnight episode of the show that aired last week . . . and boy, was it awkward. On her shock at being sent home, AshLee told Sean, "Why did you say you had absolutely no feelings for [the other two women]?" Cue silence. Sean then adamantly denied it, saying, "I promise I didn't say that. I didn't and I wouldn't say that." AshLee clarified, "'There's absolutely nothing between those two.' That's exactly what you said. I mean, I'm not making that up."
I attended the taping of the special, and the confrontation between the two drew gasps from the audience (and the press). It was so heated that the argument continued after the cameras stopped rolling, but it was picked up by their mics — something reporters were disappointed to have muted on us. However, the producers showed a clip of it during tonight's airing. I spoke with AshLee immediately following the confrontation. Find out what she had to say about it now:
"Well, first of all, I never thought he would [deny it]. That never crossed my mind. About a week ago, I pulled out my diary. Because you know, I've had time to heal from this since then, and so I was like, I really need to get into this, find out what it was that upset me about this and what it was that I was hurt about with Sean. So I pulled out my diary and I read, and the very next morning I had written what we had gone over about our fantasy suite and that, amongst a few other things, I wrote in my diary. I thought, you know, that's a perfect thing. I need to ask him what turned in for this, and never in my wildest dreams did I think he wouldn't agree to it. I just thought he would — I don't know what I expected, but I thought he would just say maybe I made a mistake and shouldn't have said that, but never thought he would say that's not what I said."
Find out what else I learned interviewing The Bachelor stars here, and stay tuned for my complete recap of what you didn't see on TV.