The Bachelor Women Tell All | Behind the Scenes
What You Didn't See on The Bachelor Women Tell All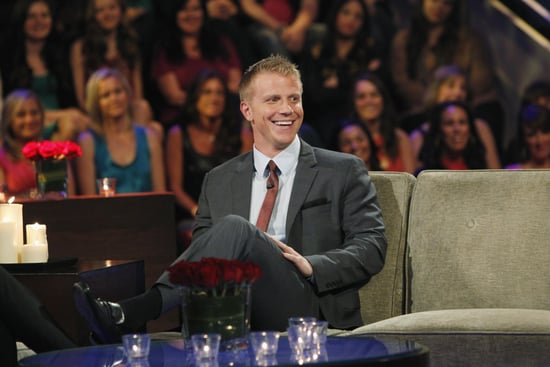 Last night was The Bachelor's Women Tell All episode, and as expected there were tears, accusations, awkward silences, and Chris Harrison's witty one-liners. But what you saw on TV wasn't the whole picture. I attended the taping of the special in LA — all seven hours of it — and have some behind-the-scenes tidbits to share with you on what didn't make it on air. Here's what you didn't see:
Chris joked around and sang with the audience: In the first few takes of his opening lines, Bachelor host extraordinaire Chris Harrison already had the audience laughing. He joked that the producers know he can't walk and talk at the same time, and after an off take he said, "It's the pressing play part that gets us every time." During one break between takes, he thanked the guests who were invited to the WTA for donating to charities, adding, "Why you should suffer through this for giving . . ." He also led the happy birthday song for a 13-year-old in the audience, saying afterward, "And now you know why I'm not on American Idol."
Selma blushed over Arie dating rumors: Selma spoke a bit about her "no kissing rule," saying that her mom knows she's not an angel and that she has kissed boys before. She just gave her the advice to not be that girl who's always making out with him. Then Chris caught Selma off guard by addressing some ironic rumors: "You have been linked to the kissing bandit himself, Arie." Selma put her hands on her cheeks after, saying, "No comment." But Chris countered with, "The blush on your cheeks is comment enough," adding, "I'm sure he's tweeting about it right now."
Keep reading to find out what else you didn't see on The Bachelor Women Tell All!
The girls talked about the stress of the show: We were able to find out more about what it's really like to have cameras on you all hours of the day. Amanda, who received some flak for her "catatonic state" (in Chris's words), noted that "the show doesn't bring out the best in people." She also said that her dry sense of humor didn't translate well on TV, and on the rose ceremony where she seemed especially discontent, she said she was actually sick that day. "I am not on 24/7," Amanda added. Even Sarah chimed in, saying that there are times you just want to be alone in your room. "You can't have a minute to yourself," she said.
Tierra dissed Sean, The Bachelor, and Kacie B.: Tierra had some harsh words during her one-on-one with Chris that didn't make the aired show. To start, Tierra talked about having a target on her back not only because of the first rose but also because she was the "last girl" to get out of a limo. Cameras panned to Kacie shaking her head (she was actually the last one, and arguably another woman with a "target on her back"). Tierra quickly clarified, "Well, besides Kacie." Ashley (aka Fifty Shades girl) asked Tierra if she's ever watched the show because the villain is always the one who says they're not there to make friends. Tierra responded, "I am not a Bachelor fan." To which Chris came back with, "The show's probably going to go on," adding though that her words do have meaning. On if she was falling in love with Sean, Tierra said, "Could I see a future? Probably not."
Sarah admitted to being more skeptical: Sarah seemed quite down in her interview with Chris, making a point to say that while she appreciates being a positive role model, she "never came on the show to be a crusader." She added that it's encouraging to have a lot of people calling you inspirational, but "you just want to find that one who really believes you're great and wants to keep you around." When Chris asked if she was open to love, Sarah responded with, "I'm more skeptical," also noting, "usually when things seem too perfect they are."
Des is clearly the fan (and Chris's) favorite: The first time they announced the women one by one, there were huge cheers for Des compared to the other contestants. The producers then told the audience to have more energy for ALL the girls, and the second take is what made it on TV. When Chris was talking to Des, he made it known that there were only two breakups in the history of the show that he thought were mistakes. The first was in season two when Aaron Buerge sent Gwen home, and the second was when Sean sent Des packing.