The Bachelor Women Tell All Interviews
The Women Tell Us All: 12 Things We Learned From Chatting With the Ladies (and Men) of The Bachelor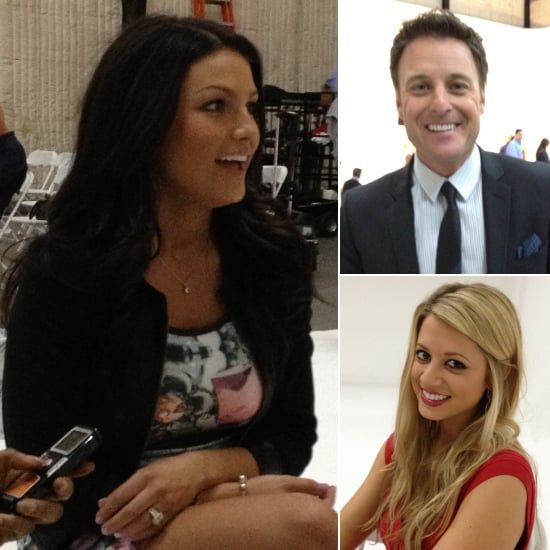 I recently attended the taping of The Bachelor's Women Tell All special, which airs tonight on ABC. The episode took place before AshLee's dramatic exit last week, where her only parting words to Sean were "Stay here." So not only is this the first time Sean will face the women he booted — like Desiree, Sarah, and Lesley — it will also be the first time he has a chance to explain himself to AshLee and vice versa. Of course the other main attraction tonight will be Tierra (the "Tierrable"), who is already engaged to somebody else. I interviewed the "villain" of the season, along with Des, Sarah, Lesley, AshLee, host Chris Harrison, and The Bachelor himself, Sean Lowe. Ahead of tonight's Women Tell All episode, check out the highlights from our conversations now:
Sean was embarrassed about sexy shower scene: On his most embarrassing scene, Sean told me, "I could say hands down that shower scene at the end of [week seven's] episode. I don't get embarrassed easily, but that was so embarrassing. That was ridiculous, and with the '70s porno music playing. It was a lot to watch." Sean watched the show with friends, who kept him "very grounded." He told me, "Basically throughout the two-hour show, they're just ripping me and making fun of me and just yeah, definitely keeping me humble."
Tierra is engaged to an "awesome" guy: Tierra played coy with the engagement details but did say that she's excited to be engaged and has a wedding date set. She told us, "The guy's pretty awesome. Let me tell you, he really is." And on her huge engagement ring, she said, "We designed it. Well, I picked out two rings, and he designed it into one."
Lesley knows who wins this season: Lesley told us that she knows who wins and that "they seem madly in love." She said, "He's ended up with a great girl and that wasn't me, and that is totally fine. I'm happy with the way things worked out."
Des preferred to watch the season alone: Des told me that she didn't watch the show with friends. "I kind of wanted to keep it solo just because it's my life, you know? I don't think people really understand that. Friends see it as entertainment, and 'oh my gosh, my friend is on TV!' But to me, it was my life. It was my feelings put on the line." Des added that her friends would disconnect her from the show, saying that they were rooting for other girls. "And I'd just be like, 'Do you know that I was actually dating him?'"
Keep reading to gain more Bachelor insights!
Lesley would go on a double date with Sean and Catherine if she wins: Lesley told me that she came out of the show with a best friend, Catherine, and that they've "talked every day since filming's ended." She added, "Once I thought I was perfect for Sean, but now that I see that we have so many of the same similarities, I can totally see her being really perfect for him as well." Lesley said it wouldn't be awkward going on a double date with her best friend and her ex: "I would love nothing more than to go on a double date with Catherine and Sean if that was who ended up with him. Why we bonded so quickly, and we will be

forever friends

, is because we were able to separate our friendship and bond and ours and Sean's relationship."
Tierra's future plans include fashion: Tierra said that she plans on using her background in fashion for her career. She told us, "I'll be designing my own line and have my own website. And hopefully all my haters can be fans eventually." She won't, however, be designing her own wedding dress: "No, not wedding dress but you know, jewelry, maybe my tattoo heart."
AshLee's friends and family all thought she was engaged: AshLee got together with her friends to watch the season, and before last week's episode they thought she was engaged. She told me, "My cousin sends well wishes all the time. And I'm like, 'I'm going to hurt you if you don't stop talking.'" On keeping it a secret from them, she said, "I wanted them to walk my journey. I wanted them to see, but I don't think you really see my journey with Sean as much as what really happened."
Sean wasn't shocked about Tierra's engagement news: Sean told me he wasn't surprised about Tierra moving on and that he doesn't harbor any ill will toward her. He said, "I wasn't shocked. She said that she wanted to get engaged, and then she got engaged."
Lesley doesn't regret not saying "I love you": Lesley doesn't know if saying "I love you" to Sean would have changed things. She told me, "I don't regret it at all because it didn't feel right, and I'm not just going to throw those words out there. I really wanted to say it in my hometown of Arkansas, had I gone on to the next week, just because it would have been special to me."
For Chris, choosing a favorite bachelor is like picking a favorite child: On his favorite bachelor, Chris told me, "Oh, no, I would be crucified if I picked one of my favorite children. (It's my daughter.)" But he did say he has favorite seasons for personal reasons: "Aaron Buerge was a big moment in my life because that's when I knew the show had just reached a different level and a plateau which I was not prepared for . . . Bob Guiney is a good friend of mine. Andrew Firestone became a dear friend, and I was at his wedding."
AshLee and Sean talked about kids' names in the first episode: AshLee told us that they didn't show an intimate moment between her and Sean in the first episode. She said, "Right away, night one, we clicked. We had this great connection, and clearly, it kept me this far. We talked about kids' names, and we talked about homes and what kind of porches we want in our houses."
Chris has "no desire" to be the next bachelor: Despite now being single, Chris told me it would take a lot for him to make the change from host to the bachelor. He said, "It would take a life-changing something. I have no desire to do it. I love hosting it, and I get it. I think it works, and I think it's a beautiful thing, but I look at these producers and people, I helped build this show. I helped create what it is, and I don't think I could now get in and just ride in the vehicle and act like I didn't know how it works. I think I've lived and seen behind the curtain way too much. I actually think I built the curtain."