The Bachelorette Bingo Boards
Print and Play Our Bachelorette Bingo Boards For the Season Finale!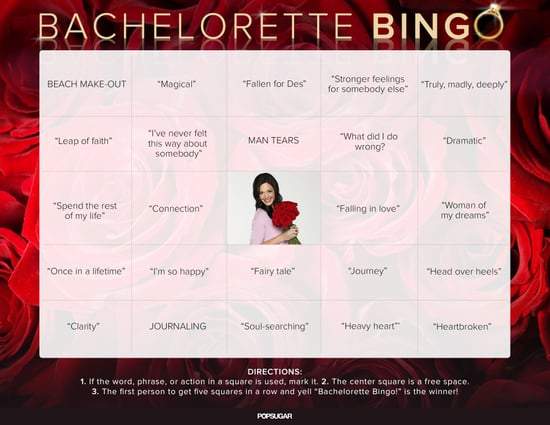 This season of The Bachelorette comes to an end tonight and boy, does it promise to be good. When we last left Desiree Hartsock for the dramatic part one of the finale, Brooks had just left her broken-hearted and she wasn't sure how to proceed with Drew and Chris. If you've been glued to your TV screen like us for the ups and downs of the reality dating show, then we've got a treat for you that will make this last episodes truly the "most exciting finale in Bachelorette history!"
Here's how it works: Just click here to download five different Bingo boards (including a blank one), print them out, and play a Bachelorette version of the classic game at your finale viewing party! Need a refresher? Watch all of our Bachelorette recap videos here, and be sure to tune in to our LIVE viewing party tonight at 7:30 P.M. EDT / 4:30 P.M. PDT!
Version one is above (click on the image for full-size), keep reading for more printable Bingo boards.
Version Two
Version Three
Version Four
Version Five (Blank)
Now grab a glass of wine (or two), some equally Bachelorette-obsessed girlfriends, and play some Bingo!