Barack Obama: Gay-Marriage Ban Supporter?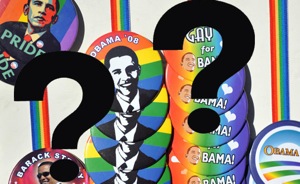 When it comes to gay issues, President Obama swings both ways. Ignoring what he has or hasn't accomplished yet, even Obama's campaign promises were conflicted. He promised to end Don't Ask, Don't Tell (still waiting), help repeal the Defense of Marriage Act (coming soon?), and he has signed an anti-hate crime bill into law, as promised. But on the issue of gay marriage, Obama said, "I don't" instead of "I do."
Now this presidential position is being used by the supporters of Proposition 8, California's gay marriage ban currently being appealed in federal court. Supporters of the ban have argued in court that Obama's views prove that you can favor "traditional" marriage without being a bigot.
So what would Obama himself say about Prop 8? Well back in Nov. 2008, Obama straddled the issue — saying although he opposed same-sex marriage on religious grounds, he also opposed Prop. 8 because it was "divisive and discriminatory." Seems like Obama could play for either team in the Prop. 8 debate.