Barack Obama on Richard Mourdock's Rape Comments
Obama Speaks Out on GOP Candidate's Rape Claim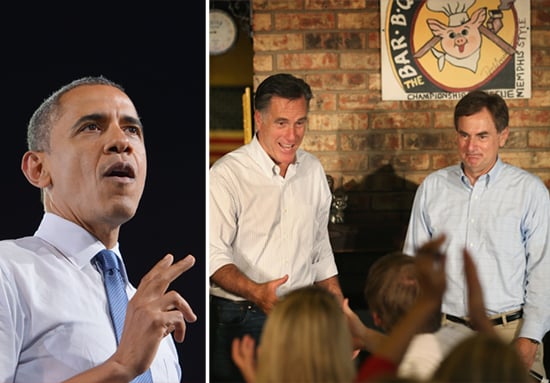 Earlier this week, Indiana's GOP Senate candidate Richard Mourdock had a Todd Akin moment when asked if abortions should be allowed in cases of rape. He said, "I think even when life begins in that horrible situation of rape, that is something that God intended to happen."
While Romney has stood by his endorsement of Mourdock, he did tell Anderson Cooper last night that his continued support hinges on Mourdock apologizing. He said, "If he apologizes and says he misspoke and he was wrong and he asks the people to forgive him, then obviously I'd be the first . . . in the years that I've been around, I've made a few [mistakes] and I've asked for people's understanding and forgiveness when I own up to it. It's when you don't own up to it when people will not believe you."
Obama was harsher in his response to Mourdock's controversial comments last night, telling Jay Leno, "I don't know how these guys come up with these ideas. . . . Rape is rape. It is a crime. And so, these various distinctions about rape don't make too much sense to me, don't make any sense to me." He then added, "This is exactly why you don't want a bunch of politicians, mostly male, making decisions about women's healthcare decisions." We agree!
Watch Obama talk about Mourdock's rape comments and women's healthcare rights in this Tonight Show clip below.