Beautiful Bastard Book
Beautiful Bastard Is the New Fifty Shades of Grey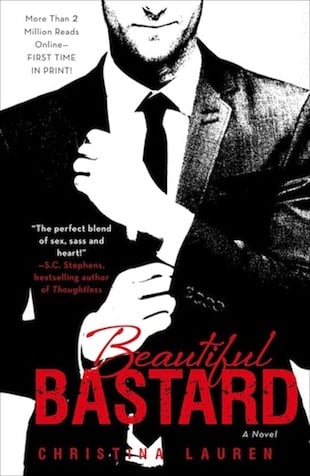 Twilight-inspired erotica is shaping up to be its own genre of literature. Beautiful Bastard is the latest steamy title to hit the bestseller list after beginning as Twilight fan fiction. Forget Edward Cullen and Isabella Swan or Christian Grey and Anastasia Steele — Bennett Ryan and Chloe Mills are the new hot couple overcome by forbidden love.
Beautiful Bastard is the creation of writing partners Lauren Billings and Christina Hobbs, who just signed a five-book deal with Simon & Schuster. Chloe is an intern at a major media conglomerate, and Bennett is the heir and executive who has returned from France to Chicago to take control of the company. The story first debuted online in 2009 with the title The Office and has since been reworked. The second book, Beautiful Stranger, is set to be released on May 28. And the film rights have already been acquired.
While not known for quality writing, many women couldn't resist reading Fifty Shades of Grey, if just out of curiosity. But is Beautiful Bastard worth your time? It is, according to Amazon, where the book has a four-and-a-half-star rating compared to Fifty Shades' three and a half. Of the 500-something reviews, one reads: "Beautiful Bastard is a wonderfully indulgent read. The authors did a fantastic job with plot, dialogue, and chemistry." But not everyone is impressed. Another reviewer writes, "I have read FAR better, far sexier, far more sensual (for that matter, far more filthy) sex scenes than what is offered up here."