Benefits of Oral Sex
Oral Sex Empowers Young Women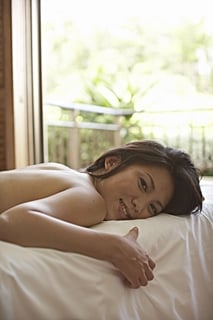 Oral sex gets a bad rap for being taken too lightly, but research has been rejoicing in its benefits lately.
We've heard it may improve our chances of conceiving (a mixed bag depending on your conception plans), boost brain power, and now empower us. A new study found 30 percent of young women (18-25) say performing it makes them feel more in control in relationships.
Naturally, some people aren't pleased to hear the up side of going down. Parents and prudes alike comfort themselves with the idea that women don't enjoy oral sex, but young people, women included, are giving and receiving it more than ever.
"This data tells us that oral sex is becoming very much a part of most young people's sexual repertoire," says Brea Malacad, a researcher behind the study at the University of Alberta. And if parents, sex educators, and marketers of safer-sex products want to keep up, they're going to need to change the way they address it.