Best Coming Out Stories
Coming Out Stories That Make Us Proud (and Weepy)
There's a reason why Disney princesses appeal to us. Deep down we're all looking for that fairy-tale ending. But life isn't exactly a Disney movie, and sometimes things don't turn out the way we expect them to.
You would think that being courageous enough to truly be yourself by coming out would result in immediate acceptance from society and the people in your life. But, sadly, that's not always the case. This National Coming Out Day, take cheer in the fact that for every disappointing story out there, there are countless other examples in which faith and love triumph. We've rounded up some of the best below, but just a warning . . . you may need to grab a box of tissues.
The dad who overheard his son talking about his plan to come out.
Nate, a Michigan high school student, was nervous about coming out to his dad. He was trying to plan it over the phone with his boyfriend, Mike, but his dad happened to overhear the conversation. Nate's dad then wrote this heart-melting letter to reassure his son and show his love. The letter went viral when it was posted by the Facebook page of FCKH8, a gay activist organization. The page's founder, Luke Montgomery, says he was so touched by the letter that he cried. "It's what I want," he said to Yahoo. "It's what everyone wants."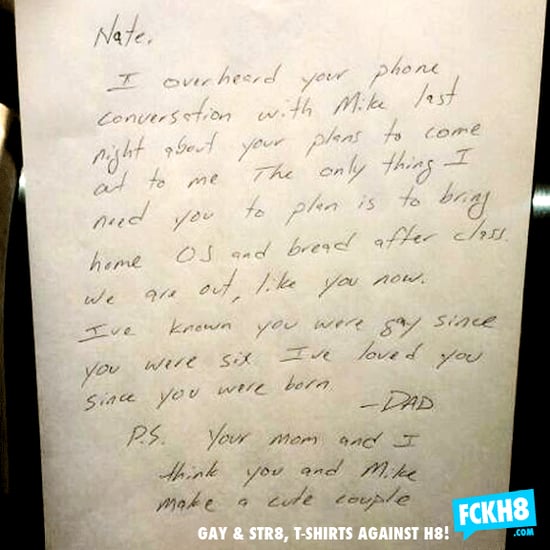 The text in its entirety:
Nate,

I overheard your phone conversation with Mike last night about your plans to come out to me. The only thing I need you to plan is to bring home OJ and bread after class. We are out, like you now. I've known you were gay since you were six, I've loved you since you were born.

— Dad

P.S. Your mom and I think you and Mike make a cute couple.
Read on for more touching stories.
The dad who spotted his son's coming out over Facebook.
When college student Levi Miles decided to post a Facebook status that revealed his sexuality, he didn't realize his dad would see it. This happened right before he went home for Easter. Back home, his mom told him that his dad's initial reaction was disappointment and a bit of hurt. After hearing that, Levi decided not to broach the topic with his father over the weekend.
However, when he went back to school, he found an old photograph of him and his dad tucked in between his books.
On the back of the photo, his dad wrote, "I will always love you, no matter what."
The 7-year-old who came out to his loving parents.
In a Huffington Post op-ed, a mom, who goes by the pseudonym Amelia, reflects on the time her 7-year-old son accidentally overheard her discussing his crush on Blaine from Glee over the phone.
"We're not saying he's straight, and we're not saying he's gay. We're saying we love who he is," Amelia said.
Her son immediately interrupted the conversation and chimed in with "Yes, I am."
Amelia responded, "Am what, baby?"
To which he said, "Gay. I'm gay."
She got off the phone, rubbed her nose against his, and told him she loved him. Her son responded with a simple, "I know," then scampered off to play with his brothers. After one of the many proclamations he made to his dad about being gay, Amelia's dad said, "I know, buddy . . . and you're awesome, too."
What's so moving about this story is the immediate response of unconditional love this mom and dad had toward their son. One particularly touched commenter wrote, "This is the future I have always envisioned for every child — to have parents like you and where coming out won't be an issue or be a process or potentially huge life-changing conversation. I am so glad to know that future is already here."
The punny and sweet coming out cake.
Laurel, 15, decided to come out to her parents in a unique and sweet way. She baked a coming out cake. Next to the cake was a note that said: 
Good morning parents,

I'm gay. I've wanted to tell you for a long time. I thought doing it this way would be a piece of cake. I hope you still love me. I mean, it's hard not to love someone who baked you a cake.

All my friends know and still love me. Your acceptance would be the icing on the cake.

I hope you, much like this cake, are not in tiers.

I hope we can look back on this and say "boy, this one really takes the cake."

It gets batter.

Love, Laurel (sorry for so many puns)
Here's her update:
My dad saw the cake and came into me room and hugged me and laughed. He said he loved me and the cake and the letter, and everything was perfect . . .

. . . My mom saw it and cried of happiness. We hugged and cried together. Then, we all ate the cake and talked. I am very lucky to have such supporting parents and to have so much support from you guys. Thanks everyone! Have a gay day!
The Christian mom who chose love over hate.
You've probably read the powerful op-ed I'm Christian, Unless You're Gay by Dan Pierce of Single Dad Laughing. In the post, Dan makes some compelling statements about religion, love, and acceptance. Dan writes:
The greatest spiritual leaders in history have all preached love for others as the basis for all happiness, and never did they accompany such mandates with a list of unlovable actions or deeds. They never said, love everybody except for the gays. Love everybody except for the homeless. Love everybody except for the drug users. Love everybody except for the gang members, or those covered in ink, or the spouse abusers. . . . The mandate was pretty damn clear, wasn't it? Love others. Period.
A few months later, Dan published a letter he received from a woman who called herself "one proud mom." In the letter, she details her experience with her 15-year-old son's coming out. Her son came home from school one day and told her about a homework assignment in which he had to read I'm Christian, Unless You're Gay and write an essay in response. Not knowing her son was gay, she said she "gave [her] son an earful about homosexuality and God," told him to tell his teacher he wouldn't be participating, and threw the article away. Her son silently left the house and started working on his homework assignment, which he sent to his mom. He wrote:
I feel like if my mom and dad would just think about things, they'd realize that what they always say and how they always hate gays is not what Jesus would do and maybe there is a chance that they will some day love me like Jesus would. I am their kid after all. Tonight I am going to send this to my mom and see what she says I guess. I don't know what will happen but I know that I deserve to be loved just like everybody else does I just hope she thinks so too.
After she read his letter, his mom burst into tears and cried "for the longest time." When she stopped, she decided to read the article again through her son's eyes. She wrote:
By the time I finished I felt as big as an ant and I realized just how much hatred I have in my heart toward others. You see, Mr. Pearce, you are right. It's not about what other people do. It's about whether or not we are loving them. Nothing else matters at all. And it took all of this for that to finally sink in.