Best Female TV Characters of 2010
What TV Character Makes You Proud to Be a Woman?
This year there were quite a few strong female characters in television, offering words of wisdom about life and marriage, showing us how to get through impossible situations, and even shaking it like Britney Spears. Many of them have also been recognized with award nominations and wins this past year. There are tough leading ladies like Alicia Florrick from The Good Wife, Jackie Peyton from Nurse Jackie, Tara Gregson from United States of Tara, and Cathy Jamison from The Big C. From cheating husbands to psychological disease to cancer, these women have gone through hell and back, and yet they still manage to keep their sanity (mostly) and sense of humor.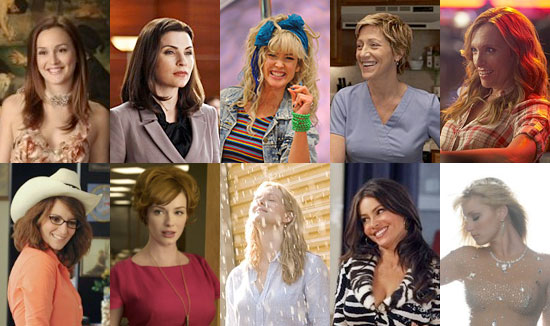 And then there are the characters paving the way for us with their attempts at balancing work and relationships, like Mad Men's Joan, who chose marriage over career; relationship-phobic Robin Scherbatsky from How I Met Your Mother, who had her heart broken; and 30 Rock's Liz Lemon, who we learned so much from this year, from dating dealbreakers to how fate relates to spray tanning.
And don't forget last year's winner, Blair Waldorf from Gossip Girl, who has continued to woo us with her wardrobe while dreaming in classic movies and reading French novels.
So all said, which small-screen star this year makes you the proudest to be a woman?