Best Tweets About Dating From Nov 2013
Tweets Girls Say: Bumping Ginger and Imaginary Boyfriends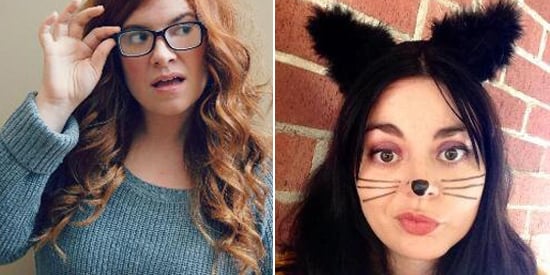 Turn that frown upside down — it's Friday! Throw caution to the wind, and take a Twitter break with the best tweets of the week. The funniest ladies of Twitter have entertained us these past seven days with their sexual exploits with salad, words of wisdom on oral sex, and musings on Movember and picking up guys at the drugstore. Plus: a surprise threesome and sex slang. Get all the funny below, and don't forget to follow POPSUGARLove on Twitter!
Ain't that the truth.
My type is "guy with girlfriend that's a prettier version of me"

— Allison Fields (@allisonfields) November 5, 2013
Is that considered surprise sex?
told my boyfriend we could have a threesome tonight but SURPRISE it's only cause i'm pregnant

— victoria (@theblowout) November 6, 2013
Close encounters, of the date kind.
Been seeing a new boy recently. I hope other people can see him too, but it's not a deal breaker.

— Megan Ganz (@meganganz) November 7, 2013
Hits a little too close to home.
Hey girl are you a gym 'cause I've never been inside you

— Shira (@shiraselko) November 6, 2013
Click here for more funny!
Get ready for some hairy ladies. Deal with it.
LOL to the dudes saying No Shave November doesn't apply to ladies. No worries, bros. We aren't trying to fuck YOU anyway.

— Maritza Lugo (@PolaRoid_Rage) November 5, 2013
Also wards off unwanted affections.
I'm gonna slip into something more comfortable - like period panties and that baggy t-shirt you'd hate even more if you knew it was my ex's.

— Stephanie McMaster (@Smethanie) November 5, 2013
Lunchtime adventures.
If fingering a salad to find the dressing is sex. Then I just had it.

— jacqueline carbajal (@jackiecarbajal) November 7, 2013
Hey, I dig it.
I just referred to sex as "bumping ginger," and Andy made me move to the back of the van with the sleeping kids.

— Brittany Gibbons (@brittanyherself) November 3, 2013
Mmm, snacks.
I literally cannot watch porn without vomiting, but not from disdain, just cause I eat so many snacks.

— Stephanie Mickus (@smickable) November 2, 2013
I would so date Twizzlers.
My favorite way to ask someone out is wait until they leave the candy aisle at CVS and whisper "want to go out sometime?" to the Twizzlers.

— Bez (@Bez) November 6, 2013
Right?!
I wish every time I had sex, I could do it fully clothed, in my cutest outfit.

— Ccoff (@Christy_Coffey) November 6, 2013
It's a toss up, really.
really want sex but i guess a s'more will do

— Sputnik Sweetheart (@Verlieren) November 5, 2013
If you give a man anything . . .
If you give a mouse a cookie...he'll probably ask for a glass of milk. If you give a man a cookie...he'll probably want a blow job.

— Kelly MacLean (@thekellymaclean) November 7, 2013
Matchmaker, matchmaker, make me a match.
I have been cordially invited to my parents' house because there's a "handsome single dad named Damian" doing some construction work there.

— Mandi Harris (@MandiHarris) November 4, 2013
Muy
caliente

.
A diet won't make a person love you again. Know what will? A foreign language course. Damn girl. Were you this caliente when you were mine?

— Julieanne Smolinski (@BoobsRadley) November 5, 2013
Just tell him your phone was stolen . . . in prison.
just sent my dad an accidental text that said "my prison wife is here" so that'll be fun to explain

— Li'l Edie Surly (@JennyPentland) November 7, 2013
It's the facts of life.
"If you have sex wrong your baby gets a penis. You get a boy baby." - 5 yr old daughter

— kelly oxford (@kellyoxford) November 3, 2013
Isn't that what we all need?
I need a virile young bemustached man to come over to my place and wash my car in daisy dukes

— priscilla (@BBW_BFF) November 2, 2013