Betty Friedan The Feminine Mystique Quotes
Peek Inside the Book That Sparked a Second Wave of Feminism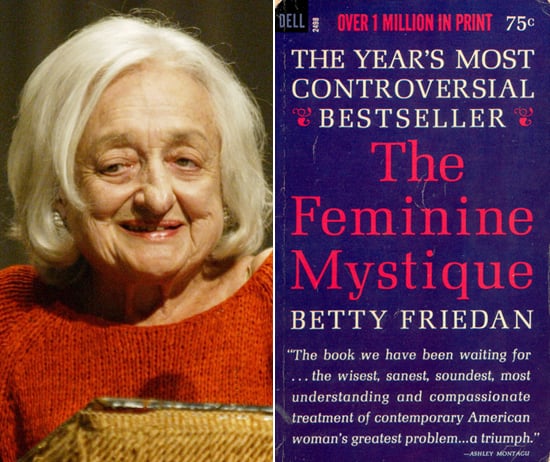 Today marks the 50th anniversary of Betty Friedan's The Feminine Mystique, the controversial 1963 book that made waves among women and reignited the feminist conversation in America. In it, the former journalist wrestles with the ideals laid out by Sigmund Freud, Margaret Mead, women's magazines, and more. Based on research and interviews with suburban housewives, she attacks the theory of the "happy housewife" and argues that the American norm is a problem for women, families, and society.
Since the book's publication, the term "feminine mystique" has become a kind of catchphrase for Friedan's vision of the dissatisfied housewife. To her, "feminine mystique" defined the silent struggle women faced: they were unhappy in their domestic roles, but society insisted that being a housewife was the best way to find fulfillment. While some have praised her observations and considered her book a key text in the feminist narrative, others have found her theories over the top, dismissing those women who take pride in their domestic roles.
Although Friedan passed away in 2006, her work is still widely read and debated, and she did seem to succeed in giving "the problem that has no name" a name. In honor of the book's anniversary, we're highlighting some of the key quotes from her work, so keep reading for a glimpse of Friedan's controversial message:
On women's silent dissatisfaction:
"It was a strange stirring, a sense of dissatisfaction, a yearning that women suffered in the middle of the 20th century in the United States. Each suburban housewife struggled with it alone. As she made the beds, shopped for groceries, matched slipcover material, ate peanut butter sandwiches with her children, chauffeured Cub Scouts and Brownies, lay beside her husband at night, she was afraid to ask even of herself the silent question: 'Is this all?'"
On the sexual implications:
"Instead of fulfilling the promise of infinite orgastic bliss, sex in the America of the feminine mystique is becoming a strangely joyless national compulsion, if not a contemptuous mockery."
On how society suffered:
"A woman is handicapped by her sex, and handicaps society, either by slavishly copying the pattern of man's advance in the professions, or by refusing to compete with man at all."
On how it affected the individual:
"It is easier to live through someone else than to become complete yourself."
On how children were affected:
"Strange new problems are being reported in the growing generations of children whose mothers were always there, driving them around, helping them with their homework — an inability to endure pain or discipline or pursue any self-sustained goal of any sort, a devastating boredom with life."
On how women's disengagement related to the times:
"It was easier, safer to think about love and sex than about communism, McCarthy, and the uncontrolled bomb. It was easier to look for Freudian sexual roots in man's behavior, his ideas, and his wars than to look critically at his society and act constructively to right its wrongs. There was a kind of personal retreat, even on the part of the most farsighted, the most spirited; we lowered our eyes from the horizon, and steadily contemplated our own navels."